The Baptist Campus Ministry traveled to New Orleans and St. Louis for service and tourism opportunities within multiple ministries.
Story by Abby Siegel, Assistant News Editor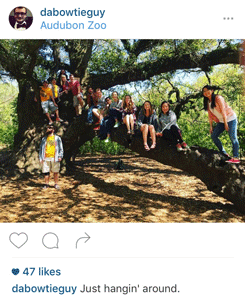 In the New Orleans French Quarter, numerous Murray State students could be spotted during Spring Break, but Baptist Campus Ministry (BCM) members were walking down Bourbon Street with different ambitions than the stereotypical college student ideal.
Every Spring Break, BCM members engage in volunteer opportunities – mission trips – to share their faith and give back to the United States' communities through service. This year, the BCM took students on two separate trips – one to New Orleans and the other to St. Louis.
The trip to New Orleans encouraged international students to attend alongside American students, including components of both service and tourism. In all, 34 people attended with students from China, South Korea, Yemen, Japan and Taiwan present. The main goal was to build lasting relationships with international students that attend the university while exploring an American city together.
Each morning consisted of service opportunities at local churches or with homeless ministries. The evenings were filled with tourist attractions such as a visit to the French Quarter to drink café au lait and eat beignets or a 90-minute swamp tour, getting up close to alligators and wild boars.
"I'm going to surprise my mom that I sat on a street and talked to homeless people," said Sara Yang, graduate student from Qingdao, China.
Yang said she has been taught not to talk to homeless people or give them money, and she was scared to approach them. While in New Orleans, she said she talked to a group of four homeless men and women for more than 90 minutes.
"They are just like you and me," she said. "They have their dreams and I have my dreams."
Although physical impacts of Hurricane Katrina weren't evident, emotional impacts were discovered when talking to Louisianians.
"Even ten years later, people are willing to talk and go into detail of what they experienced," said Chandler Cochran, sophomore from Cincinnati.
Cochran said his favorite part of the trip was giving care packages to the homeless. He said he talked to a Vietnam veteran named Thomas who was in prison for 21 years for manslaughter.
"Everyone has made an impact," he said. "We all can go back and know we have helped."
Ten other BCMers went to St. Louis to complete various projects in poor areas around the city. Projects included building a community garden, painting and landscaping at local churches and helping church planters move.
"The church planters at Church of Affton were inspiring because of their passion for their community," said Lindsey Coleman, sophomore from Murray. "Not only are they in the process of restoring a church building, but they are concerned with restoring the hearts of the broken Bosnian community around them."
Coleman said she left the trip enlightened about the nature of church planting and the passion she desires to have in her life that mimics what she saw in the church planters she met. 
"It was really encouraging to see how the locals wanted to see their neighborhood improve," said Justin Moseley, senior from Utica, Kentucky.
Moseley decided to spend his final college Spring Break in St. Louis because he said he wanted to help people rather than "drive hundreds of miles to pamper" himself.
"I've spent my last 14 Spring Breaks spending money on myself, and I finally realized how selfish that is," Moseley said. "I want to help those around me because I want to reflect that love Christ has shown me by helping others."
---
The Native Americans in Arizona received mission work from students and Hardin Baptist Church, who made house additions and hosted Vacation Bible School.
Story by Mikayla Marshall, Staff writer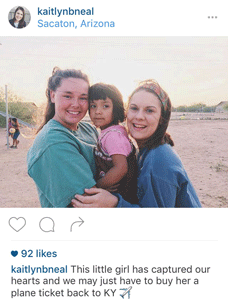 Murray State students traveled to the Native American reservation in Sacaton, Arizona over spring break.
The group of 27 college students went with Hardin Baptist Church and spent March 19-25 helping the people of Sacaton. They built an addition to the missionaries' home, who live on the reservation at First Pima Baptist Church. The group also held Vacation Bible School (VBS) at night at First Pima and went to Cockleburr and Chuichu, two Native American tribes within the Tohono O'odham Nation, and did VBS during the day.
"This was actually my second time going on the Arizona mission trip. I think God doesn't call the equipped, he equips the called and God really put the people of Sacaton on my heart," said Kerisha Simmons, senior from Owensboro, Kentucky.
She said the most rewarding part was just seeing the kids' faces light up when they came to VBS every day. She said she became close with a first-grader named Tony, who lives in a house with eight other kids, and it meant a lot to spend one-on-one time with him to make sure he knows he is loved by someone, especially Christ.
"I believe the trip went well overall," said Kayla Cayce, junior from Owensboro, Kentucky.
Just by spending time with preschoolers and elementary children every day, she got to show the love of Jesus. She said the trip revealed how much she takes for granted as a college student, especially with her salvation. She said it's hard to describe the oppression the Natives have endured and explain the depression and brokenness she witnessed.
"I believe the biggest difference would be the lack of hope and something to look forward to," Cayce said.
Cayce will be going on another trip to Canyon, Nicaragua with her church in Owensboro, Kentucky, in October where they plan to put on a sports camp.
"This trip was an awesome opportunity. I got to step out of my comfort zone and see a new culture and I felt a huge burden for the people there," said Kaitlyn Neal, junior from Murray.
This was her first mission trip and she said she would be going on more in the future. She said everything is different in the ways the Native Americans live their lives.    
Students from the group said Christianity is not as "popular" there as it is here. Many people on the reservation had not heard of Jesus. They said it felt like they were in a different country, even though Sacaton is only 30 minutes away from Phoenix. They said oftentimes college students get caught up in their own lifestyles and forget the impact they can make in others' lives.     
"God commands us to love others more than ourselves. Serving others is such a great way to let them know they are loved. Jesus counted himself equal with the people here on Earth, not above them," Simmons said.
Hardin Baptist brings a group to Sacaton every year because two full-time missionaries from Marshall County have built relationships with some of the Natives.