Story by Kayla Harrell, News Editor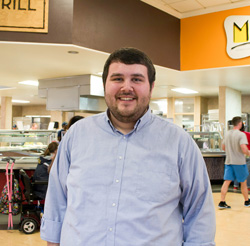 Incumbent Student Government Association President Clint Combs won the executive position again with about 500 more votes than his opponent, Patrick Hooks. Because Hooks did not win, he said he plans to apply for the vacancy in senator at-large.
There were 1,002 combined votes cast for the candidates, with 735 for Combs and 267 for Hooks.
"I have been a senator for four years," Hooks said. "I really want to make a difference."
Combs said he planned to come back for his master's degree, and Gov. Matt Bevin's proposed budget cuts to higher education motivated him to run again for re-election.
"One of the big things I want to do is continue to advocate for Murray, continue to advocate for higher education," Combs said. "We knew it was going to be tough. That kind of sealed the deal."
Combs said SGA has produced more legislation within this year than over the past few years.
"This year we worked really hard to get our student senators and other bodies to start looking more into the issues on campus, producing legislation and really taking a stand for our students," Combs said.
Caitlin Dunaway, SGA treasurer election winner, won with 622 votes, defeating opponent Paula Jaco by 341 votes. Chance Roberts, 2016 RCA vice president election winner, won with 452 votes. He defeated opponent Bryan Beals by 188 votes.
"We are trusted by students to serve another term," Combs said. "I'm going to keep working for the students."
FULL RESULTS
President – Clint Combs
Vice President – Nathan Payne
Secretary – Tori Wood
Treasurer – Caitlin Dunaway
RCA Vice President
Chance Roberts
Senator At-Large
Collin Morris
Keegan C. Rhines
Michael Mann
Brianna Barnes
Evan Laird
Autumn Graves
A.J. Pittman
Education and Human
Services Senators
Cassidy Carroll
Mimi Eaton
Humanities and Fine Arts Senator
Daniel Hurt
Science, Engineering and Technology Senators
Amanda Shoemake
Michael Gunter
Agriculture Senators
Kaleb Houston
Connor Moore
Caleb Brannon
Nursing and Health
Professions Senators
Amanda Lilly
Jaq Stephenson
Nicholas Bontrager