Story by Sarah Combs, Staff writer and Clara Firtos, Contributing writer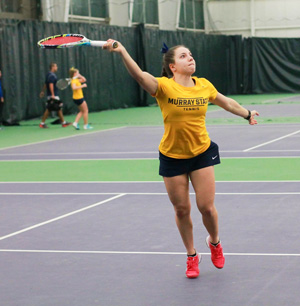 The women's tennis team improved its record to 3-3 on the season after defeating Lindsey Wilson 7-0 last weekend. The win snapped a three-match losing streak.
The men, meanwhile, lost their fifth match in a row to fall to 1-6 on the season.
WOMEN
The women's tennis program, second in the OVC, had a point to prove this weekend at Kenlake after their three-match losing streak. The Racers beat Lindsey Wilson 7-0, winning the doubles point early and sweeping the singles matches.
"We just practiced even harder," said Alina Schibol, junior from Hamburg, Germany. "We really wanted this win."
The Racers delivered the doubles point early on, giving them momentum for winning singles. Haily Morgan, freshman from Anthem, Arizona and Erin Patton, senior from Memphis, Tennessee set the tempo for the Racers winning the first doubles match of the day 6-2. Jeanne Masson, freshman from Dinard, France and Schibol, followed suit with a 7-5 win in their doubles match guaranteeing the doubles point for the Racers.
Head Coach Jorge Caetano said the win wasn't easy, but sometimes the tough games are the most beneficial.
"I think this weekend was all about being tougher mentally and knowing that how good they are and believing that they can beat any team," Caetano said. "That was the main thing this weekend."
Caetano has incorporated something he calls WIN, which is an acronym for What's Important Now. Caetano hopes to push his team to focus on the present and what they are engaged in at that time.
"When they go to class, that's the main important thing. When they are doing homework, do homework," Caetano said. "When they are on the tennis court, focus on tennis."
Senior from Ontario, Canada Megan Blue won singles 6-2; freshman from Esbjerg, Denmark Amina Hadzic 7-6; Morgan 6-4; Patton 7-6; Schibol 8-5; Masson 6-5/retired.
The Racers match-up at 2 p.m. Sunday at Arkansas State, in Jonesboro, Arkansas.
MEN
Vanderbilt, the No. 45 team in the nation, handed the men's tennis team its sixth loss of the season Friday, sweeping the doubles and singles matches.
The Racers' first doubles team  of Marcel Ueltzhoeffer, senior from Oftersheim, Germany, and David Schrott, freshman from Mannheim, Germany, lost 6-3.
Schrott said the referee made a bad call in the beginning of the match. Ueltzhoeffer and Schrott plan on practicing more with each other in hopes of improving as a duo.
"These really tough matches only prepare us for the OVC matches" said Javier Villar, freshman from Madrid.
Srdjan Trosic, sophomore from Novi Sad, Serbia, and Villar lost their doubles match 6-1.
The Racers' third doubles team of Anjan Kashyab, junior form Tell City, India, and Will True, sophomore from Bowling Green, Kentucky, failed to win a game in their match.
"I need to keep my shots more deep and hit harder," Kashyab said. "It's always a tough match against these guys."
The struggles against the nationally-ranked Commodores continued in the singles matches.
Murray State's No. 1 player, True, lost 6-1, 6-1, to Vanderbilt's Daniel Valent, who is ranked No. 64 in the country.
Both Ueltzhoeffer and Trosic lost to their opponents 6-3, 6-1. Schrott later lost 6-2, 6-0.
And Vanderbilt players shut out Villar and Kashyab 6-0, 6-0.  Teammate David Hess, junior from Louisville, Kentucky, hasn't played a match since Feb. 6 against the University of Kentucky because of personal reasons. His teammates are showing support by being there for him, and True said he will practice with him occasionally.
The men's team also is coping with the death of Head Coach Mel Purcell's father, Bennie Purcell, a Murray State basketball star and tennis coach.
"It was a shock when we found out Mel's father had died," Schrott said. "We had just seen him a week before. We stand together as a team and we told them both (Purcell and Hess) we are here if they need any help."
The Racers are scheduled to play at 9:30 a.m. March 4 at the University of Louisville.