How one student won her battle, and how others can win their own, too
Story by Abby Siegel, Assistant News Editor
When Melissa Ford was 14 years old, she began having seizures nearly every week.
Concerned, her parents took her to the doctor to perform a series of tests. The results revealed the secret she had shared only with her closest friend: that she was starving herself.
Ford, now a senior from Evansville, Indiana, said she developed anorexia nervosa after feeling inadequate from comparing herself with those around her, beginning when she was 12 years old. She battled the disease for four years in high school with the help of therapy that she attended twice a week.
"The root cause isn't an eating disorder, it's something else," Ford said. "Everybody is different, it is not a cookie cutter thing and it's not as simple as people think it is."
February is National Eating Disorders Awareness month. A series of programs nationally and at Murray State will occur throughout the month. Feb. 21 – 27 will cap off the month as the official National Eating Disorders Awareness Week.
Nearly 20 million women in the United States suffer from a clinically significant eating disorder during their lifetime, including anorexia nervosa, bulimia and binge eating, according to the National Eating Disorders Association. Between 40 and 60 percent of girls ages 6 – 12 are concerned about their weight, and there has been a rise in anorexia in young women ages 15 – 19 during each decade since 1930, according to the association.
"There has not been a significant increase in the diagnosed instances of eating disorders, though college students are believed to be at a higher risk for developing problematic diet and exercise behaviors," said Abigail French, Women's Center director.
For men, the underlying problem is a societal view of masculinity – a real man is supposed to be strong, muscular and powerful – as shown in the media, French said.
"While body image issues may manifest differently in men than in women – wanting to be larger, rather than smaller, for example – the impact on emotional, mental, and physical well being is in large part the same," French said.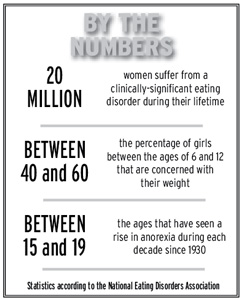 RELAPSE HAPPENS
"I knew what the path looked like and I didn't want to go down it again," Ford said.
After a significant loss occurred in Ford's life, she said her natural retreat was to stop eating. Her roommate confronted her after noticing her hair and weight loss, and Ford admitted that she didn't know what to do.
"I looked at her and said, 'I'm not sure how this is going to end,'" Ford said. "And she simply said to me, 'However you want it to, that is how it is going to end.'"
Control is often one factor in developing an eating disorder, as well as using food to cope with overwhelming emotions, according to the National Eating Disorders Association. They are complex conditions, involving "long standing behavioral, biological, emotional, psychosocial, interpersonal and social factors," the association says.
"Realizing that I was in control, no matter how out of control I felt, that was huge," Ford said. "To anyone struggling, you are understood, you are in control, it is only going to end the way you allow it to," she said.
Ford said it was largely a mental battle she faced.
"I know that my story won't be the same for everyone, but at one point or another it had to stop being about me and it had to be about who Christ was for me," Ford said. "It is a mental decision for me."
Ford recovered from her anorexia and she said she felt it could happen because she recovered from a relapse.
"I worry about people viewing me through the lens of a fragile post-anorexic rather than the content and recovered person that I am," Ford said. "But I fought and won my own battle and that is something no one can take away from me."
GETTING AND GIVING HELP
French said being educated on how to approach a friend that may be struggling with an eating disorder is important. At the same time, not trying to be a counselor or doctor, she said. The most important steps are to listen and show compassion.
"I often encourage people I talk with to have a thoughtful and direct conversation starter, but after that listen and be informed enough to the person about help that is available," French said.
At Murray State, students struggling with an eating disorder must first understand how severe the problem is. A student can go to the Women's Center at any time for an in-person screening or simply to talk. If the student's screening result is mild or moderate, individual counseling, online resources for improving body image and individualized feedback is given, and a medical referral may or may not be made. If on the rare occasion a screening shows a student in the severe range, the Women's Center would refer the student to an immediate inpatient or intensive outpatient center.
The Women's Center is encouraging students to take an online assessment through researchers at Stanford University and Washington University to evaluate Internet-based programs promoting healthy habits. After taking a five-minute online screening, personalized online resources and programs are suggested and connections can be made with Murray State's Women's Center.
"Practicing positive behavior is just as important as stopping negative behaviors," French said. "Learning to have compassion with ourselves and knowing our worth as people is an importance piece of the issue."
Ford suggests keeping nutritious snacks on hand for moments when appetite returns, letting friends know when you are having a weak moment and getting rid of the scale to overcome the condition.
"My biggest secret has become public, but if sharing my secret gives someone else the courage to do the same and get help, I'd go through it all again five-fold," Ford said. "I think that there is freedom in speaking about your biggest fears, and it is not a shameful thing."
Correction: A previous version of this article included two incorrect quotes. First, Abigail French was quoted as saying, "There has been a significant increase in the diagnosed instances of eating disorders … " but the correct quote is "There have not been significant increases." Second, French was indirectly quoted as saying friends should try to be a counselor or doctor. That is incorrect. She said friends should not try to be a counselor or doctor. The News regrets the errors.