Story by Courtney Scoby, Staff writer
Although the study abroad process seems relatively simple at first, there is much more to the application process than simply applying, being accepted and making the payments on time.
The general application includes two personal statements, filling out a budget sheet (that requires signatures and more from various offices on campus) which outlines every possible expense students should take into consideration when preparing for their trip, as well as all of the expected forms.
If the student chooses a program that is part of a larger provider, such as the Cooperative Center for Study Abroad or Kentucky Institute for International Studies, they will have to fill out a second, largely duplicate, application and pay a second application fee. 
Scholarship applications are due the same day as the general applications, so students must wrangle both at the same time. Although consolidated through the online program Horizons, which allows students to create only one application and check which scholarships they wish to apply for, this process involves more forms and another essay.
Once a student is accepted, more work begins.  There are "post-acceptance" requirements to fulfill, orientations to attend, documents to crisscross campus with in order to collect the necessary signatures and lots of other tiny details to attend to. These include passport and visa (if applicable) applications and requirements, finding out about important vaccinations and figuring out whether any of the prescription medications a student is taking are allowed into the country or countries they will be traveling to. This process can become more hectic if the chosen program is through a larger provider.
Although the study abroad application process is lengthy, some students believe that the extra work is worth it.
"Even though there are multiple elements to a study abroad program application, I did not think it was too lengthy when I was going through the application process, and I still feel the same way," said Alli Strong, junior from Cincinnati, who spent a semester abroad in South Africa earlier this year, and also works in the Education Abroad Office.
Rebecca Downey, sophomore from Murray, who will be traveling to London this winter, agreed.
"Sometimes I did [think the process was too lengthy], but I understand that it takes a lot of planning to put together these trips," Downey said. "The program needs to be well-prepared for the students and the students need to know how to prepare themselves for a new experience."
Ashley Dumas, senior from Owensboro, Kentucky, who will travel to India this winter, said the extensive process is a way to weed out uncommitted students.
"This allows MSU to know that every student that has applied to study abroad is dedicated to their decision," she said.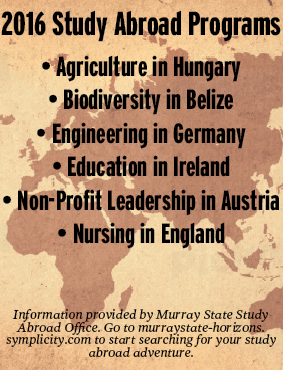 Although Dumas said she is really busy as a college student, she insists that the study abroad application process is not that much of an added burden to students' schedules.
"In order for someone to have this mindset [to want to study abroad] they must be really good with time management," she said.
Like any other activity on a busy college student's plate, a great deal of planning needs to go into a study abroad application.
"When it comes to balancing school, a job and all of the other activities college students are involved in, studying abroad definitely takes planning on the part of a student," Strong said.  "If students give themselves enough time in advance before deadlines, the application process should not be overwhelming."
However, beginning to plan for a study abroad experience several months in advance is not an option for every student. Sometimes the perfect study abroad program comes along a little too close to the deadline.
For example, Dumas only learned of her program a mere two weeks before the deadline.
"I think there is enough time to complete all the application because students were able to start the application process over the summer," Dumas said. 
Although the time frame was less than desirable, Dumas did not let a quick deadline stop her from studying abroad.
"Since I was passionate about this study abroad application, the time frame did not bother me too much," Dumas said.
Nevertheless, the study abroad application process may be a time commitment for students. 
"My two weeks consisted [of] 14 hours involving writing essays, meetings with the study abroad and scholarship officers, getting my passport and completing my general study abroad application," Dumas said.
Although it may seem daunting, the Education Abroad Office is here to help students who feel lost before they have even left the country.
"Students are always welcome in our office and we really appreciate when students come in with questions, because each question or concern helps make our office better and helps us in achieving our goal to assist students in finding a program, getting on a plane, and studying abroad," Strong said.