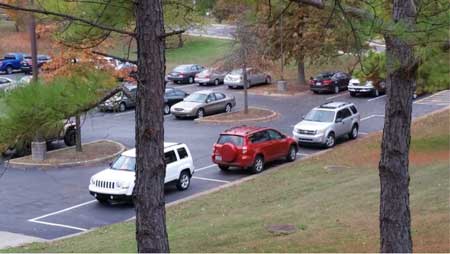 What's wrong with this picture?
If you say "nothing" then you are dead wrong according to the Murray State Parking Management. On Oct. 23, I received a parking violation on my Red RAV4 parked just as you see it in this picture. At the parking office, I was given a picture of my car and told I was improperly parked because my vehicle was going "against the flow" of traffic. I immediately countered stating that there is no signage – nothing at all in the lot to indicate proper flow of traffic and that I wanted to appeal.
In my email, I provided these two pictures and argued that I was correct and the other three vehicles were wrong. This parking lot has no directional arrows on it anywhere to indicate a one-way street or correct direction of the flow of traffic. On a normal street, you would parallel park on the curb on the passenger's side of the vehicle as I do coming into these spaces the way the picture on the left shows. If you come into these parking spaces from the opposite direction (as in the second picture) then you might park here easily enough if you can pull straight into a spot. But if you have to park in the middle between two other parked vehicles then the parking is difficult and awkward because it is opposite of normal parallel parking.
Francie Ray, Parking Supervisor, replied, telling me that the Judicial Board would meet November 5th, review my email and pictures and that their decision would be final. If I had requested at the time of my appeal to be present, I would receive an email. If I had not requested to be present, the Judicial Board would render a decision (within five to 10 days), then I would receive an email from the parking management system about that decision.
The parking office personnel didn't tell me I needed to "request to be present" so I called and learned that the appeal process is actually on MyGate and that parking staff had done the appeal for me. That was nice, but I should have been told the appeal process in detail when I was there.
Just minutes later, Ray called me back. She had reviewed the photo the officer had taken and informed me that I was parked correctly and the other three vehicles were going "against the flow of traffic." She said she could see why the new officer made this mistake. Since I was the only vehicle going in that direction, it appeared that I was wrong. In actuality, this is not a one-way street so facing north is the proper way to park there, because to park facing south the driver would have to cross oncoming traffic to pull into those spaces. I said "Thank you, that's my point exactly." But, again I pointed out that there is nothing to indicate that either way is illegal. I was pleased she now agreed with my reasoning and that my fine would be waived, but that doesn't help the next person they ticket.
A few minutes passed and I realized I was parked facing north – the wrong way. I called Francie again and said "I'm parked going north, like the other cars in the parallel spaces today. Do I need to go move my vehicle?"
She laughed and told me no; she would tell the officers to leave the parallel parking alone until they had a meeting. Again I argued that it is not right to ticket these spaces for either direction until something was done to inform people. She said she'd put something on their webpage.
Since the submission of this letter, I have not seen any such notice on the webpage or an all-campus email, nor has there been any signage or directional markings put on these parking spaces.
In closing, I want to say I am very satisfied with how I was treated and how this particular issue was resolved. I have the utmost respect and appreciation for our Campus Police and all that they do to make our campus safe and secure. I know we need parking rules or there would be chaos. But, I also think that parking is a major problem that Murray State should address. Also, the officers writing tickets could show a little grace and first write a warning – especially in instances like mine where the violation is not clearly obvious.
How many other people have been ticketed when they shouldn't have been? How many of them just paid the fine since they didn't want to fight the bureaucracy?
I encourage everyone, if you get a ticket that you don't think is fair, protest it. Maybe if enough people raise issues with unfair ticketing something will be done about it. We, as employees and students, feel that they are "out to get us," and that raising our fee for the yearly parking permit and all these parking violations are ways for Murray State to make more money. I know there's a budgetary crunch – but I guess I could accept it better if I could actually see something being done to improve the parking problems we face.
Letter from Teresa Cherry, Murray State staff from Dexter, Kentucky