Story by McKenna Dosier, Contributing writer
The recent warm and sunny weather has brought the Asian lady beetles, commonly mistaken for ladybugs, out of hiding and onto campus.
The Asian lady beetle, Harmonia Axyridis, was released in 1979 and 1981 by the United States Department of Agriculture in several states, including Pennsylvania, Louisiana and Washington.
The University of Kentucky College of Agriculture, Food and Environment believes the beetles are in Kentucky due to their migration north.
"I woke up with about 15 crawling up my leg the other night," said Mat Seifert, sophomore from Mount Vernon, Indiana. "I've heard of ants in your pants, but not ladybugs."
Although released several years earlier, the first overwintering beetles weren't recorded until 1993, according to Pennsylvania State Department of Agricultural Services.
The beetles were released to help control the aphid and scale insect population. Both are seriously damaging to crops.
Aphids cause distortion to the plants growth or stunt the growth completely. They can also transmit diseases from plant to plant, easily infecting a whole field.
Scale insects are hard and shell-like. The insects build up together and cause the plant to stop growing and die. These insects affect vine growing crops such as squash, cucumbers, pumpkins and melons.
The aphids also affect more popular crops such as soybeans and potatoes.
The Asian lady beetle varies from yellow to red in color and can have anywhere from zero to 19  black spots. It can also be distinguished from a ladybug by the white M shape in the center of its head.
The beetle's most distinctive difference from the average ladybug is that it can bite as well as stink, and secretes a yellow liquid when killed or threatened. The yellow fluid is isopropyl methoxy pyrazine, a chemical known for its odor.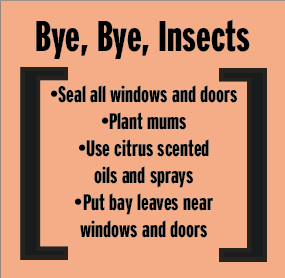 While they can and do bite, the bites are not venomous. Some cases of allergic reactions have been reported, according to About Health. Symptoms of an allergic reaction are redness, swelling and watering of the eyes.
Since their release, the beetles have become a nuisance. They can wiggle their way through almost any crack or crevice sneaking into your house or residential college.
They are seeking warmth  and a place to live out the winter, which is why they appear on sunny, warm autumn days. This is also why they can be found clustered around lights or on dark surfaces.
In 2005, the beetles became so bad that according to the New York Times, a western Kentucky hospital reported having to postpone operations due to finding these beetles in sterile operating rooms. 
ShiAnne Wilson, freshman from Independence, Kentucky, said she noticed the beetles at Blackburn Science Building.
"There was about 60 or more of them flying around," she said.
"There are literally thousands of them everywhere," Keri Mogan, an on-campus resident, said.
The insects will be gone with the first frost but until then there is very little you can do to get rid of them, according to Whole Lifestyle Nutrition. The only precautionary measure is to seal all windows and doors as well as you can, leaving no cracks or spaces for the insects to enter.
The beetles are helpful predators, so the use of insecticides against them is highly discouraged. Whole Lifestyle Nutrition recommended planting mums, using citrus scented oils and sprays on places where the beetles can get in, and putting bay leaves around doors and windows.
Alexis Ash, resident of Hart Residential College, said she sprayed lemon scented Febreze on her walls and the beetles haven't been back.
If all else fails, do not squish the beetles. Gently sweep or vacuum them up and release them outside.