Story by Mallory Tucker, Staff writer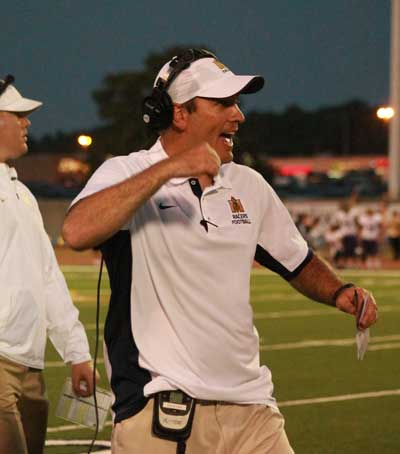 The youngest head coach in Division I football, first-year Head Coach Mitch Stewart sees himself as more than just a coach. He is a family man. When he's not on the sidelines or breaking down film in his office, he's at home with his wife, Rikki, and two daughters, Stella and Emerson.
"When I get some time away from here I don't want to go play golf with the buddies and all that kind of stuff," Stewart said. "I want to go to the pool with the girls or go read a book or watch a movie or whatever they want to do. Whether it's playing dolls or whatever, because I don't get a lot of time with them."
On the rare weekend off, you might also find the Stewart family rummaging through the Hazel, Kentucky, antique malls in search of home decor. Stewart said this is one of his hobbies.
"I'm an HGTV guy," Stewart said. "Me and my wife, we like to move the house around and do furniture and all that kind of stuff. Don't know why I like it. Just always have liked houses and real estate. If I didn't coach, I may get into real estate. I can ride around and look at houses all day, which is not a very cheap habit."
But these days Stewart's family has been engulfed in his work as much as he has.
"My oldest daughter, who's four, she's just getting to where she can comprehend what's going on," Stewart said. "She's got her cheerleading outfit now and all of that kind of stuff. My wife knows just enough about football. She knows when we win she can ask questions, and she knows when we lose not to ask questions when I get home and not talk about it … She just likes being around all the people and being around mostly the kids, the players, and getting to know them."
Even though it hasn't been a year since Stewart was announced has head coach after former head coach Chris Hatcher left the University, it's not hard to garner attention in Murray with the title of Head Coach at Murray State.
Stewart said Murray is a special place and that people are proud when he, as a coach, does well for the community.
After a win, he'll get the occasional handshake and "good game," from a stranger, and after a tough loss he may get a "You suck," shouted from a passing vehicle.
His promotion from offensive coordinator to head coach hasn't altered any relationships in his life, Stewart said, and those relationships are the reason he loves what he does.
Stewart compared the team and coaching staff to Boy Scouts, naming the camaraderie as his favorite thing about coaching.






"You just like being around the guys, and for a couple hours a day, when you're out here on this field you don't have to worry about anything else," he said. "It's just you and the guys and you're just competing. I think it's that competition with a group of guys that you truly believe in and that believe in you. I think that's the funnest part about it."
Stewart started his sports career as a baseball player and joined flag football in fifth grade simply as a means to stay busy and in shape during baseball's off season.
After beginning high school at Northgate High School in Newnan, Georgia, Stewart realized how many more fans attended the football games than baseball games, and the sport stuck with him.
In Georgia, football is the be-all, end-all sport, comparable to basketball in most parts of Kentucky. To Stewart, football is the best game in the world.
"It's one of the most physical games in the world," Stewart said. "I think it's a game of [manliness]. You can't be a little boy and try to play football. It ain't going to work. You've got to be a physical guy. You've got to love contact. There's just a tough nature about it and that's what I like."
Stewart said his father was the most influential coach in his life.
As a first-chair trombone player that's still very into music – Stewart's father began studying up on all sports as his sons hit the fields growing up. Just as his father impacted him, Stewart hopes to impact players along his coaching journey.
"That's part of the reason why you do this," Stewart said. "You're hoping that if somebody's having issues or something like that, you want to be the one that they come and sit down and ask, 'Hey, how do I handle this? How do I fix this?' But I don't know. Maybe years from now when I get done I'll have a group of players that will come back and say 'Hey coach, you really did this to me or did that to me.'"
While Stewart said his father is curious about the possibility of a grandson, Stewart has different plans.
"He always asks me, 'Hey, you going to try for a boy since you got two girls?'" Stewart said of his father. "I tell him, 'I've got 95 boys. I don't need any more boys right now. I'm boys-ed up. I'm good to go.' My little girl, she got into tee ball and she's pretty good at it. When I go to the tee ball games I usually try to sit on the bench. I don't try to get involved. I don't want to be that way. If she likes it, great. If she doesn't, then so be it. She likes to sing and stuff too, with my dad. I don't know, maybe she can make some money that way and I can retire and just live off her paycheck for a little while singing or something, I don't know."