Story by Breanna Sill, Staff writer
INSTAGRAM UPDATE
In its newest update, the social media app Instagram has solved all of its users' picture sizing needs.
While the app will always be known for its square images, the new update allows users the option to post a photo in either a landscape or portrait size.
An Instagram executive wrote in a blog to the company's website that one in five users were not posting square photos to begin with so the update was their way of improving the site's image quality.
"Clarity and detail with every shot," a spokesperson for the app wrote in the blog. "You'll capture beautiful moments in all their glory."
The new update changes the size of a photo from 612 x 612 to 1936 x 1936.
Also available in the Instagram 2.0 update are three new filters called Moon, Gingham and Clarendon.
FRATERNITY RUSH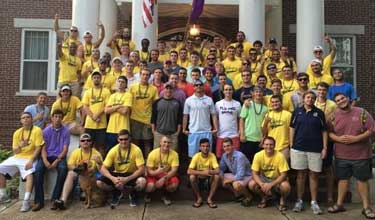 Last week Murray State held its annual fall social fraternity rush for men on campus.
Two hundred and forty four men participated and 165 men accepted bids on Monday from the fraternities of their choice.
Throughout the week, the men of the eight social fraternities on campus mingled with rushees during events, like paintball fights, and each fraternity hosted a formal "smoker" meal with their alumni.