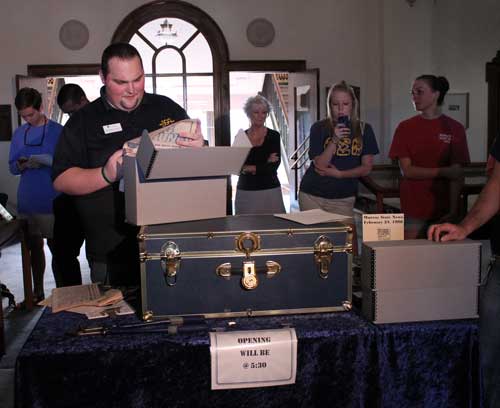 The Student Government Association is gathering items of all shapes and sizes to put in a shiny navy blue and gold trunk for the 2015 time capsule.
Clint Combs, SGA President, hopes to continue the time capsule tradition Murray State began in 1989.
"We have this fascination with the past," Combs said. "And I hope with this second time capsule, we will be able to pass our history down to future generations who will also find it interesting and carry the tradition on forward."
Former SGA president Michael Dobbs opened the 1989-90 time capsule in April of 2014 and it is now on display in Pogue library.
Some items found inside the old time capsule were a VCR labeled "Excellence in Murray," documents, photographs, a Sports Illustrated issue featuring Murray State, a cheerleading uniform and a top 10 song list of 1989.
The 2015 time capsule is not full and Combs hopes student organizations and individuals contribute items.
"I really hope that students contribute some items like a jersey or uniforms," Combs said. "I want to continue this tradition to show how the University will have grown."
Among current items are sorority and residential college T-shirts, fliers from the recent SGA campaigns, papers about the groundbreaking for the new Engineering and Physics building and President Davies investiture, posters, and a letter from Alpha Kappa Alpha sorority addressed to its future chapter.
Morgan Pearson, chapter president, wrote the letter to the future Zeta Zeta Chapter of Alpha Kappa Alpha Sorority, Inc. and put it in the time capsule to remind the future generations to always be visionaries.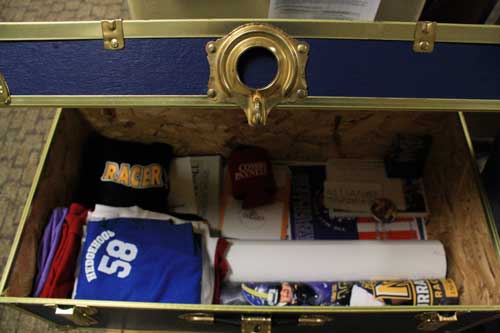 "I wrote this letter to encourage future chapters to see those who have come before them have paved their way so that nothing is impossible for them," Pearson said. "And no goal is out of reach."   Jeanie Morgan, adviser to SGA and student organizations, started working for SGA in 1984 and has been here to see both time capsules put together.
"So many times we let traditions die," Morgan said. "We have one or two traditions that stay, but there are some things that happen that should always be remembered."
Combs said all items are welcome, as long as they are not obscene or take up too much space.
Once sealed, this time capsule will stay in the depths of Pogue library for 25 years, until it is opened in 2040.
The last day to submit items to the Center of Student Involvement office in the Curris Center is April 29.
What would you put in the time capsule to best represent your time as a
Murray State student?
Story by Julia Mazzuca, Staff Writer