The soccer team wrapped up its undefeated spring season with a 2-1 victory over the University of Kentucky April 9 in Lexington, Ky. Kentucky advanced to the round of 16 in last season's NCAA women's soccer tourney.
The Racers started the off season with a 2-1 victory over Vanderbilt Feb. 25 in Nashville, Tenn., and added a 2-0 shutout against Southern Indiana University March 24 at home. A fourth game scheduled against the University of Evansville April 3 on Cutchin Field was canceled due to inclement weather.
The Racers lost eight seniors after the 2014 season, and while Head Coach Jeremy Groves signed nine players for 2015, the spring season showcased only returning players.
Groves also announced the fall schedule as the spring season came to a close. The Racers will play eight home games and 11 away.
They will unofficially begin the season Aug. 14 with an exhibition (opponent and location to be determined).
The season gets officially underway Aug. 23 against Mississippi State in Starkville, Miss. The Racers will then play the University of Arkansas-Little Rock, Arkansas State and the University of Tennessee before playing their first home game against Louisiana Tech.
The team starts conference play Sept. 24 against Eastern Kentucky and ends the regular season at home Oct. 30 against Austin Peay State.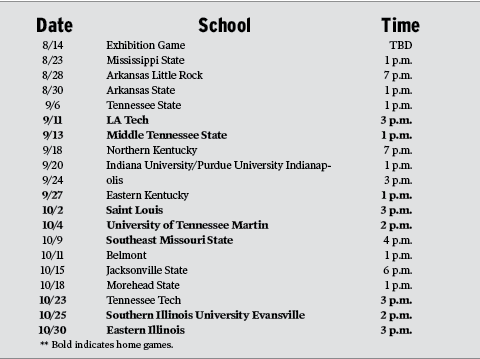 Staff Report