Fans filled the Racer Room of the CFSB Center and fruit trays were present in lieu of the typical press conference pizza. Almost the whole team was present, and fans young and old filled the seats behind the usual beat reporters.
There were three cameras filming instead of the usual one, and the statistic sheet being handed out donned four pictures of sophomore point guard Cameron Payne. It was obvious this was more than a press conference. This was a going away party.
Assistant Athletic Director for Media Relations Dave Winder lovingly introduced Payne and Head Coach Steve Prohm to the crowd, foreshadowing the speeches to come.
"It's good to see so many friends and fans and teammates and coaches here to support Cameron," Winder said. "I think we all agree that we love him. And we love Coach Prohm, too. And I'm just glad to support Cameron in what he's about to tell you here today."
Prohm opened the floor by listing just some of Payne's many accolades.
Fourth player in Murray State history to score 700 points in a single season
Second player in Murray State history with 200 assists, three away from the all-time record
Second fastest player to reach 1,000 points
Third most efficient player in the country according to kenpom.com
OVC Player of the Year
Lute Olson Player of the Year
CBS All-American
He continued by teasing Payne, reminiscing his freshman year before thanking both him and his family for giving him the opportunity to coach him.
"Everybody always said at Murray, "Aw, you lose Isaiah Canaan, what're you going to do, what's going to happen?'" Prohm said. "And then this gangly kid from Memphis, Tenn., shows up who took 24 shots against Valparaiso his very first game. And then six months later he was without question the best player in our conference. I've said all season long, he's the best point guard in the country."
Payne then took over on the microphone, thankful as well for his growth both as a basketball player and as a man.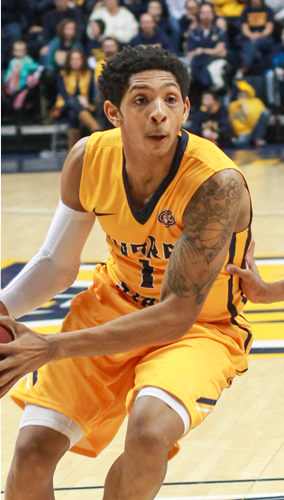 "First, I'd like to thank Racer Nation for all the support they gave us throughout the season," Payne said. "Y'all are the best fans in the country. Now, to my teammates and my seniors, I love y'all from the bottom of my heart. I couldn't have accomplished anything without y'all. Every single one of y'all – y'all are my brothers for life – and that's family. This program, as a whole, Murray State, has transformed boys to men and I can see that inside myself."
He then turned his attention to Prohm and emotion took over. The past came to light in his speech as well, speaking of his early days at Murray State.
"As a freshman, he believed in me, day one," Payne said. "One thing he said: Don't worry about the pressure, put the pressure on him. That's one of the main things I remember about Coach P when I first got here. Cause you know, y'all had Isaiah Canaan, and it was funny, man, I was a freshman coming to fulfill what he has done, and I mean that's kind of hard. I had pressure on my back but he told me to give it all to him. And I really appreciate that. That went a long way with me."
Tears filled both Payne and Prohm's eyes as Payne's opening remarks came to a close. Silence filled the room as Payne came out with it, short and sweet.
"To conclude, I would like to say I will be entering my name in the 2015 NBA Draft this season. Thank you."
The floor was opened for questions at the untraditional press conference, and everyone's curiosity was finally satisfied as Payne and Prohm described how he came to his decision, one that was finalized just days before the announcement. Payne said his NBA dreams came to life after the Morehead State matchup in the OVC Tournament, while Prohm had started worrying much earlier.
"Just from recruiting, you knew he was going to be a good player, you knew he was going to be an all-conference player, but probably through his freshman year we knew he was going to be a pro," Prohm said. "And then as this season went on, especially kind of December, January – maybe the Evansville game where he had 30-something – that's where I said, 'Oh, we probably need to recruit some other point guards.'"
Although they met just twice throughout the season to speak on the subject of playing professionally, speculation was rampant as NBA scouts were present at every game. Now that the decision has been made, Payne is ready to start his journey.
"Not saying I started from the bottom as in wealth, but I started from the bottom as in basketball," Payne said. "No one trusted in me. So to get this opportunity, man it's a dream come true. I just really want to thank God for it. Couldn't have done it without Him and all these lovely guys in the room. But the opportunity is just phenomenal. I'm just ready to go ahead and try it out."
Over the next two months, Payne will play in every pre-draft tournament and camp that he is invited to. When the draft takes place in New York City on June 25, he joked that he has only made one plan:
"I hope I'm going to be in the green room. That's the only place I've got set up right now."
Story by Mallory Tucker, Sports Editor