Racer basketball fans lay in wait as the futures of sophomore point guard Cameron Payne and senior forward Jarvis Williams are decided throughout the next few weeks. Articles on Payne, who has been unavailable for comment, have been circulating on the Internet speculating that he is leaning toward entering the NBA draft.
Adrian Wojnarowski of Yahoo Sports first reported Payne's inclination toward the draft in an article published Tuesday. According to Wojnarowski's unnamed sources, Payne and his family have been hosting presentations from several NBA agents in their hometown of Memphis, Tenn., this week.
Draft Express has Payne currently placed as the No. 30 overall pick in the first round, while ESPN's Chad Ford said Payne ranges in the No. 14-No. 23 picks for the first round.
CBS Sports released a list Wednesday of every player who has announced their intentions to enter the draft, and Payne remained unlisted.
Williams' basketball future is also up for speculation as he prepares to play at the next level. This week, Williams was selected to play in the National Association of Basketball Coaches' Reese's 2015 Division I College All-Star game in Indianapolis. Williams will play for the West Division Friday at 3:30 p.m. CST at Lucas Oil Stadium and will be coached by the University of Nebraska's Tim Miles and Saint Louis University's Jim Crews. Twenty outstanding seniors are selected for the game by the sponsoring NABC. Williams was one of only two players to rank in the top 10 for both scoring and rebounding in the OVC this season, ranking at fifth and third, respectively.
Williams has also been invited to participate in the Portsmouth Invitational Tournament April 8-11 in Portsmouth, Va. The PIT selects 64 of the best seniors in the nation to participate in a four-day, 12-game tournament in front of both NBA and international league representatives.
Unlike Payne and Williams, the future of Head Coach Steve Prohm was solidified at Murray State with a contract negotiation and extension agreement earlier this week. Prohm's contract now runs through March 31, 2019 with an automatic one-year extension.
"Keeping outstanding coaches in place is often the key ingredient for programs that strive for and achieve unprecedented success," Director of Athletics Allen Ward told GoRacers.com. "It is imperative for us to make every attempt to keep Coach Prohm at Murray State and Dr. Davies recognizes the importance of doing just that. Coach Prohm has certainly earned the commitment being made to him and the program."
The guaranteed contract increases Prohm's base salary from just over $300,000 to $490,000. With the addition of radio/TV obligations, the package totals at $500,000 annually, plus incentives.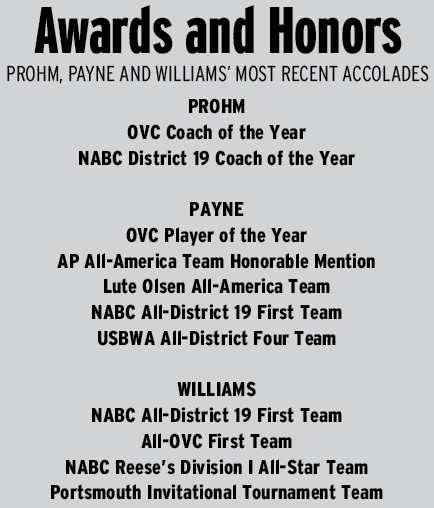 Story by Mallory Tucker, Sports Editor