No matter the comedy, there is always a film dealing with the ultimate work related adventure of business trips,
"Unfinished Business" is one of the most recent underrated comedies to truly not hold back.
Despite some unneeded drama, it succeeds as one of the most if not the most unholy business trips in all of cinema.
A small business owner and his two associates take a trip to Europe in order to close one of the biggest deals their company has ever seen. However, what began as a routine trip soon becomes the most crazy, and unimaginable wild ride of their lives.
With unplanned stops at a sex fetish event and a global economic summit, they must pull together and close this deal before they lose themselves in this crazy world.
"Unfinished Business" stars Vince Vaughn, Dave Franco, Tom Wilkinson, Sienna Miller, Nick Frost and James Marsden. Ken Scott directs the film with a script by Steve Conrad.
Vaughn is one of those comedic actors that you always see stick close to his brand of humor.
Instead of trying to do children's movies or a horror film, he sticks with the adult comedies. In this film as the leader of these crazy suit-ladened musketeers, he ultimately has to play the straight guy while his cohorts get the majority of the craziness free reign.
It is weird to see but there are many scenes throughout the film where you seriously think to yourself, "this is why I love Vince Vaughn."
I will be the first to admit the fact that I am have never been a fan of either Dave or James Franco, but Dave does have his shining moments in the film.
As the young and gullible business party, his role will make you want to cry from laughing so hard.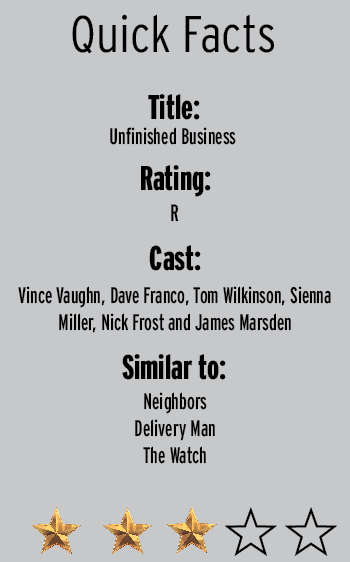 Even with Dave channeling a child-like innocence throughout the film it is really hard not to laugh at his moments.
The great dramatic actor Wilkinson is one of the biggest surprises in this film.
With so many great performances in other films, Wilkinson is crude, lewd and very intense in this film.
Don't get me wrong. It is hysterical to watch. He wins the battle of the craziness in this unrated comedy.
It is just weird to see someone of his acting stature along for the ride. However, that just shows you that comedy is hard; drama is obviously easy.
Besides the fact that the film tries desperately to give you deep dramatic aspects (such as divorce and cyber bullying) on each character to make you understand why they need this trip, it is a wildly hilarious and incredibly raunchy film.
I recommend that you go see it.
Story by John Gruccio, Contributing writer