When it comes to action films, the spy genre is one of the most fascinating. With series like James Bond and Jason Bourne being known as the best of the best, it can be difficult to bring something new to the table.  "Kingsman: The Secret Service" definitely does not fall into any difficulty. It sets a new standard for all to admire.
As a man of order and refinement, Harry Hart has led a life of dedication to his country. As an agent with the prestigious and secret organization known as "Kingsman," he risks his life daily for the betterment of society.
However, when Harry comes to the aid of Eggsy, the son of a fallen friend, who has particular skills that need certain refining, he decides to offer him a unique opportunity. In order to see him do better and use his potential, Harry recruits him for the Kingsman's competitive training program. As Eggsy starts to prove himself, a technological global threat emerges with a twisted genius at the head of it.
"Kingsman: The Secret Service" stars Colin Firth, Taron Egerton, Samuel L. Jackson, Mark Strong, Sophie Cookson, Sofia Boutella and Michael Caine.
Always being a potential candidate and favorite for the coveted role of 007, Colin Firth rises to the occasion for this film. With a background in dramas, he shows us all the sophistication we would expect of a British gentleman and the sincerity of being a father-like figure to Eggsy, but also surprisingly excels effortlessly with the varying levels of intense action showcased in the film. Newcomer Taron Egerton is a revelation in this film.
He embraces the role of Eggsy with acrobatic agility and convincing charm.
We all know Samuel L. Jackson for being the villain in most of his films. However, his portrayal of the villainous technological billionaire Richmond Valentine is a role unlike any other he has played. Jackson is able to weave in between the lines of insanity and comedic-like nerdiness.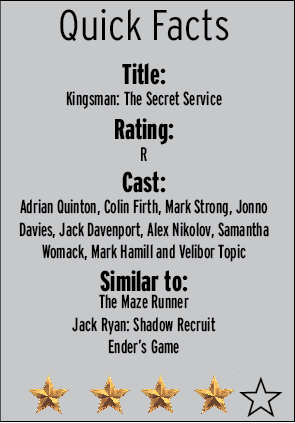 Matthew Vaughn, who is most notable for directing both 2010's "Kick-Ass" and 2011's "X-Men: First Class," has garnered a reputation for constantly raising expectations and even more so delivering with film adaptations of known comic books.
With "Kingsman," not only does he not miss a beat, but also brings the spy genre a new and unique crowning gem.
The visuals and fight choreography in this film are both fresh and jaw dropping. You wouldn't think that visuals would matter more than usual with an action movie, but trust me you will enjoy the attention to detail shown in the film.
I will admit that the concept of Jackson's villainous plan is very hard to believe and even more so to wrap your head around. However, it is very entertaining. Besides that, there is not a false note or weak performance throughout the film.
If you appreciate a good action adventure and spy movie, I highly recommend "Kingsman: The Secret Service."
Story by John Gruccio, Contributing writer