In recent weeks, the Murray State men's basketball team has played in front of NBA scouts both at home and on the road. NBA teams are sending scouts all the way to Murray to see what the buzz surrounding this team is all about.
"Any time your team is number one in its conference, you are going to draw national attention," said Memphis Grizzlies scout Kevin Yeiser. "Every conference has talent."
It's not unusual for a player from a mid-major school to have an impact at the next level. Players like Steph Curry from Davidson College, Jason Thompson from Rider University, George Hill from Indiana University-Purdue University Indianapolis and Courtney Lee from Western Kentucky University are all starters on their respective professional teams.
The Grizzlies are just one of many teams that have sent scouts to take a look at the Racers. Other teams include the Warriors, Bulls, Mavericks, Nets, Pacers, 76ers, Hawks, Thunder, Jazz, Pistons, Cavaliers and Wizards.
The team has yet to lose in the past 20 games in front of the scouts. Some players are taking advantage of this opportunity to impress them. In the Jan. 31 game against UT Martin, senior guard T.J. Sapp made an acrobatic layup late to tie the game, and with 40 seconds left he hit a 3 to give the team the lead. When he made the layup, both scouts from Memphis said just one word: "Wow!"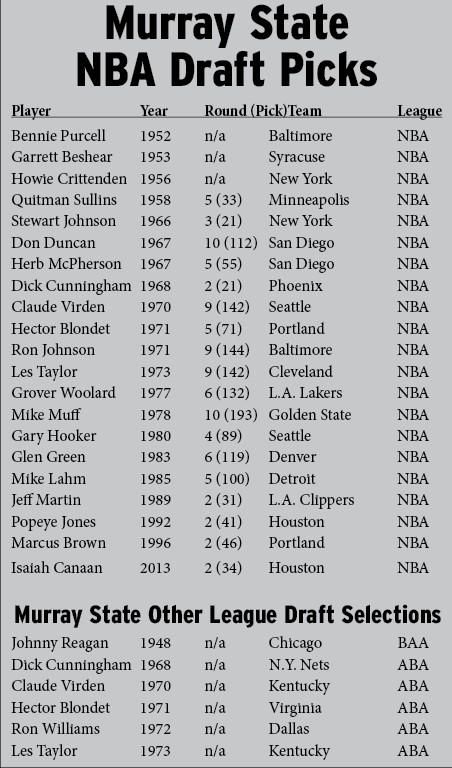 Assistant Athletic Director for Media Relations Dave Winder has the task of providing an enjoyable experience for the scouts when they come to town. During his tenure at Murray State, Winder already had some experience accommodating scouts during former point guard Isaiah Canaan's senior year.
"When you look over the years at the guys who played at Murray State, it's the ones that played on a great team that really got a good look," Winder said. "That's because teams at the next level want players who have been around winning and know how to win. When a team does well, everyone benefits."
In the history of the program, Murray State has sent 21 players on to the NBA. The first was Bennie Purcell in 1952, and the most recent was Canaan in 2013.
One way for the Racers to gain more attention is by earning a bid to the NCAA Tournament. But for now, the current win streak is their claim to fame.
Story by Blake Bernier, Contributing writer