Murray State began what it hopes to be an online transformation last week with a social media campaign with the hashtag "Racer Happy Hour."
Monday through Friday from 3 p.m. to 4 p.m. Murray State released synchronized Facebook, Twitter, Instagram and Yik Yak posts relaying positive messages about improving one's self and funny viral Internet videos and memes meant to brighten students' days.
Catherine Sivills, assistant vice president of Branding, Marketing and Communication, said in the past year she has noticed a growing tension on campus revolving around social issues regarding race, sexual assault and cyber bullying. This tension, she said, is being bolstered by what students are posting on social media sites about their peers and the University.
"There's so much negativity out there for all of us," she said. "You pull up your news feed and it's just all around. We wanted to do something small which might just make someone's day a little better."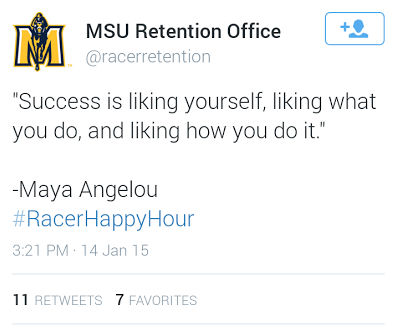 Ben Stinnett, retention specialist, worked closely with Sivills and other administration to develop Racer Happy Hour after several racist Yaks were posted on the popular anonymous forum Yik Yak last semester.
The campaign was inspired by a similar effort made at Colgate University. For 24 hours, professors posted positive messages to Yik Yak following several racist remarks made on the app which sparked a multi-day student sit-in.
Stinnett said while social media is the best way to reach students, it is not always the easiest platform to utilize correctly. He said there is a science to universities using social media.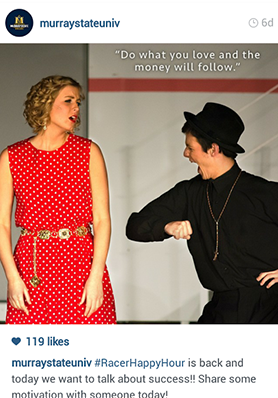 "You have to meet the students where they are and students are on social media," he said. "But a lot of times students don't want to blend their personal and school lives as much, so the challenge for the University is being present without being overwhelming. (Social media) is a moving target."
Racer Happy Hour will take place several more times during the semester: before midterms, during finals week and during other times of high stress on campus.
Dana Howard, social media marketing manager, said Racer Happy Hour's success won't be measured by the number of retweets or "likes" the office of retention's posts get, but by students' reactions.
Reactions so far, she said, have been mixed, but mostly positive.
Jessica Hiter, sophomore from Murray said she thinks Racer Happy Hour is a good idea and can be used to improve morale on campus, especially during Finals week.
"Sometimes during finals week you just want to cry and just need something happy and something positive, and this helps" Hiter said. "Especially if you're studying a lot you like to take study breaks and usually end up on Twitter, Facebook or Instagram just scrolling through trying to pass time. Obviously you'd see these posts."
Matthew Crane, senior from Cadiz, Ky., said he thinks the University should focus on developing a positive campus, but its efforts should be focused more on the residential colleges and not through social media.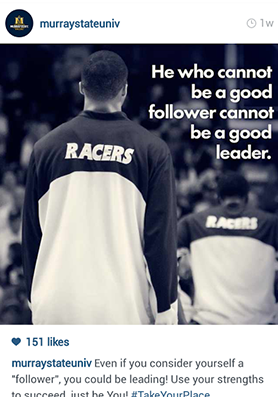 "Words are cheap and a Facebook profile is free and a Twitter profile is free," he said. "The University can post happy things all day long, but that doesn't really affect student happiness so much as providing them with avenues for positive change. Unfortunately that would take time and money that (the University) seems unwilling to expend."
Howard said this semester will be the trial run for Racer Happy Hour. Depending on what feedback the office of retention receives from the campus, she said, they will decide on whether or not to continue Racer Happy Hour next year.
"There have been many conversations about how do we help and how do we, the University, (improve the campus atmosphere)," Howard said. "I think it's kind of all boiled down to where is a place to start and this is the starting point for us."
Story by Ben Manhanke, Staff writer