Murray State graduates can take a 12-hour or less road trip north, south, east or west and be in one of the many new cities booming with job opportunities for educated, young adults, according to a report published by the City Observatory in October 2014.
San Francisco, New York and Chicago just aren't catching the eyes of college graduates the way they used to. According to the report, recent college graduates are more likely to move to cities like Denver, Houston or Nashville, Tenn., to launch their new lives.
Kristen Pace, Murray State alumna, packed her bags after graduation last spring and drove about 120 miles south on the interstate to plant her roots in "Music City," – Nashville – to start her career as a professional graphic designer at The Tennessean.
The percentage of young college graduates in Nashville has nearly doubled in the last fourteen years according to the report. Nashville is ranked as having the second fastest population growth with graduates from 2000 to 2012, with Houston being the first.
  "I wanted to move to a city that I knew I loved and a place where I could see myself staying for the long haul," she said. "Nashville was the first place that came to mind."
Based on potential job growth and a steady increase in population, Nashville is one of the "Next Big Boom Towns," according to Forbes Magazine.
"It's a lot more than just cowboy boots, barhopping and the sound of a steel guitar," she said.
Pace said she was attracted to the city because of the unique culture and diversity of Nashville.
"It's a perfect balance of a thriving big-city lifestyle and a traditional southern lifestyle," she said.
The City Observatory describes this college-educated demographic as "the young and the restless," noting that about a million of them cross state lines each year and tend to wait until their mid-30's to settle down permanently.
In comparison, the percentage of middle-aged Americans moving across state lines has decreased by nearly half, from 7.5 million in 1999 to 4.8 million in 2013, according to data collected by the Census Bureau.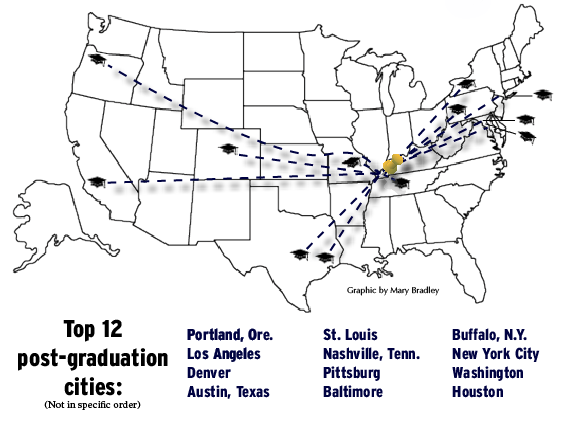 These top-ranking cities aren't just attracting graduates that have already been hired or even for job transfers. These are destinations that professionals genuinely want to live in.
Autumn Denton, Murray State alumna, said she moved to Austin, Texas, with her best friend after graduation even though she didn't have a job lined up because she wanted to broaden her horizons. Both of them had grown up in Murray and wanted a change of pace.
"I don't think anyone believed we would really up and move to Texas," she said, "but we graduated in May and were moved in here by August."
Denton said although neither of them had ever been to Austin before. The city caught their attention with its creative food trucks and bustling live-music scene. Denton said she even liked the ingrained environmentalism of Austinites, such as the "no-brown-bag" rule that doesn't allow for stores to bag items in throw-away bags.   
"I wanted to be in a diverse city surrounded by creative-minded people without losing that sense of community that I had grown up with," she said.
Additionally, Austin was listed as the best city for future job growth by Forbes Magazine in July of 2011 with a projected annual job growth of 4 percent and an unemployment rate of 5.5 percent in 2013, according to the Bureau of Labor Statistics.
Austin is expected to experience fast job growth through 2015, according to Forbes Magazine. The Austin Chamber of Commerce dedicates this low unemployment rate to its diverse employment opportunities within the city.
High rates of immigration and a large population of young educated individuals are two indicators of a strong demographic area, according to Forbes.
Denton said she knew the job market in Austin was stronger than the U.S.'s average rate.
"I knew I could find a job, even if it wasn't in my exact field, relatively easily," she said.
The population of young college-educated adults in Austin has increased by 44 percent from 2000 to 2012, according to the City Observatory and was ranked as fourth on its list of up and coming cities.
The report by the City Observatory was supported by data collected by the U.S. Commerce Department survey. The survey looked at population changes in 51 metropolitan areas with more than 1 million people.
Denton said she, like so many other graduates, felt pressured to find a good job immediately after crossing the stage. She said before she decided to move to Austin she thought about going to graduate school or moving to Boston or Seattle.
"When opportunities don't come knocking on your door, it's time to leave and hunt them down," she said. "It's scary and exhilarating, but now is the perfect time to take those crazy chances."
Story by Mari-Alice Jasper, Assistant News Editor