Fans and players alike covered the intramural fields Tuesday night as Hart College took on Franklin in the women's intramural  flag football championship game.
Hart Ravens lost to Springer-Franklin A 31-6, a score that was not indicative of the battle on the field.
Hart had just come off the field after defeating Granny Panties and hoped to do the same against Franklin.
Franklin was fresh off the field as well after just facing the Monstars in a heated double overtime game.
The fans were just as excited as the players. Freshman Christopher Cash, Hart resident from Memphis, Tenn., stood out among many. Cash played the role of both cheerleader and ball boy Tuesday night, yelling, cheering and doing toe-touches on the sidelines.
"They are not ready for us!" Cash said. "Turn on the jets! Go Hart!"
This was just one of the many colorful phrases yelled during the game.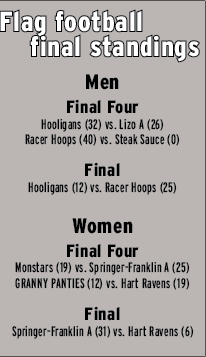 Jonathon Rogers, Hart Ravens assistant athletic director, was excited to see the women play also.
"I come to all the games and practices. I'm just here to support my Hart family," Rogers said.
Hart held Springer-Franklin A for most of the first half. Springer-Franklin A athletic director Rya Smelosky, sophomore from Louisville, Ky., scored with two minutes left.
During halftime Hart's athletic director Tori Twidwell gave her players a speech.
"Play your game, the game you all know how to play," Twidwell said. "There is only so much coaching we can do from the sidelines."
Franklin carried their first-half momentum as they returned to the field.
Smelosky ended the night by gathering the women to take a picture in their matching championship T-shirts.
Story by Da'Sha Tuck, Contributing writer