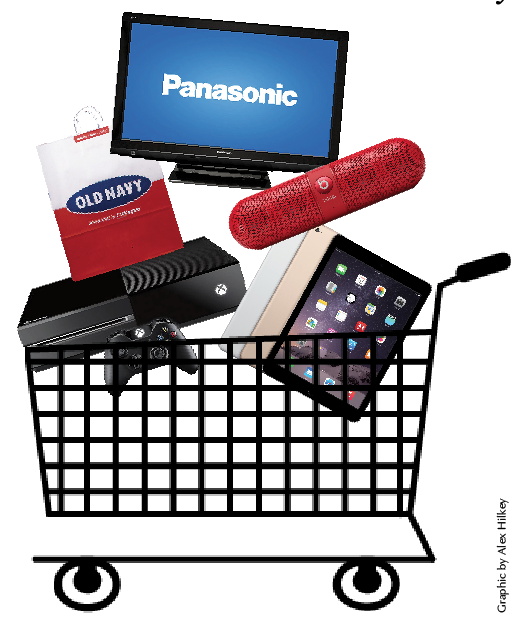 With Christmas approaching as fast as the winter weather, students may turn to Black Friday deals in order to save money this holiday season. Whether shopping for family, friends or coworkers, Black Friday makes it easy to find low prices and items that fit any personality.
This list is a compilation of deals that are suitable for some of those personalities that students may be shopping for late Thursday evening or early Friday morning. 
The Gamer:
XBox One with Assassin's Creed Unity and Assassin's Creed IV: Black Flag ($330)
There is an easy way to complete your checklist with this bundle from Gamestop. Bundles are a one-stop shop for gamers.
Hours: Deals begin on Friday at 12 a.m.
The Fashionista:
Entire store 50 percent off
Whether shopping for your closet or for someone special, Old Navy is reducing prices by 50 percent. Shop for pieces to stay warm or buy in advance if you are wishing for warmer weather.
Hours: Deals begin at 4 p.m. Thursday.
The Social Butterfly:
($499) Apple iPad Air 2 and $140 gift card
The gift that keeps on giving is offered at Target. If students are planning on purchasing the newly released iPad Air 2, they can receive a $140 gift card that is included in the price. This gives consumers multiple uses for their money and figuratively reduces the price of the iPad Air 2 to $359.
Hours: Deals begin at 6 p.m. Thursday.
The Hostess:
50" Panasonic TV ($199)
Those who want to watch sports, sitcoms or anything on cable can experience a theater-like setting with the 50-inch Panasonic TV. Best Buy offers a deal with one of the lowest prices for this particular size that can be appealing to entertainment lovers of all ages.
Hours: Deals begin at 5 p.m. Thursday.
The Musically Inclined:
Beats Pill Portable Speaker ($99.95)
For those who like to take music with them anywhere, the Beats Pill will be reduced by 50 percent at Walmart.
Hours: Deals begin at 6 p.m. Thursday.
If students still haven't found what they are shopping for with these deals like these, there are many stores that will be open Thanksgiving night and Friday morning for specials.
For those planning on eating turkey early enough to shop on Thanksgiving evening, K-Mart will open at 6 a.m. on Thanksgiving.
Also, J.C. Penney will open at 5 p.m. on Thanksgiving and Macy's will open at 6 p.m.
Both J.C. Penney and Macy's are opening at least two hours earlier than last year. Other stores that will be open on Thanksgiving include: Target, Sears, Staples and Toys R' Us.
There are conflicting viewpoints on stores opening on Thanksgiving Day.
Many shoppers believe the holiday is a time for family and employees and shoppers should be spending that holiday time at home with their families instead of in the mall.
For those consumers who do not want to get out on the holiday, there are still many deals available on Black Friday.
Some of the stores who will be open starting Friday include: T.J. Maxx, Marshalls, Costco, Home Depot, Dillard's and Bed Bath & Beyond.
Story by Tiffany Whitfill, Staff writer