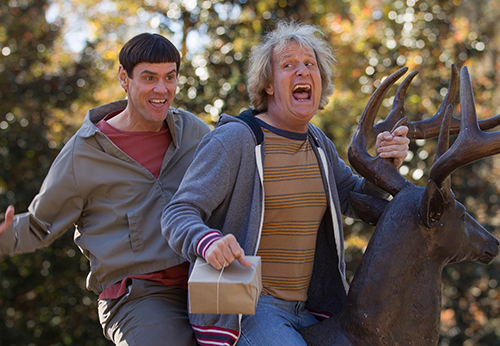 Twenty years ago, we were introduced to a film that showed us all how truly stupid a pair of characters could be. I am speaking of the film "Dumb and Dumber."
Whether it be the scene where Jim Carrey and Jeff Daniels eat a series of hot peppers and then scream for their lives or when Carrey adds laxatives to Daniels' hot chocolate, only then for the audience to see Daniels unleashing hell on the toilet, these scenes were funny to all of us in our adolescence.
However, they do not fare well now that the majority of us have grown up. Sadly, the same can be said about the sequel.
After 20 years, Lloyd Christmas and Harry Dunne are still the best of friends, but when Harry finds an old postcard from his former flame, Fraida Felcher, detailing that he has a daughter, the two friends embark on a road trip to find her.
While on the trip, Harry must decide whether or not he is ready to accept the responsibility of being a father. With Lloyd by his side, what could go wrong?
"Dumb and Dumber To" stars Jim Carrey, Jeff Daniels, Laurie Holden, Rob Riggle, Rachel Melvin, Steve Tom and Kathleen Turner. The film is written and directed by Peter and Bobby Farrelly.
For Carrey and Daniels, this film was more about going back to their roots than anything, I believe.
"Dumb and Dumber" was one of the first comedies that made Carrey a household name. Seeing the duo back together again does bring back a lot of happy memories. 
When you watch them together, it seems like no time has passed. The kind of utter enthusiasm they bring and play off of one another shows how well they work together.
However, even with their larger-than-life performances, the movie still fails, as gags from the previous films are done to bring new laughs.
The majority of the film's supporting actors only contribute to the chaos of lending new light to the old gags.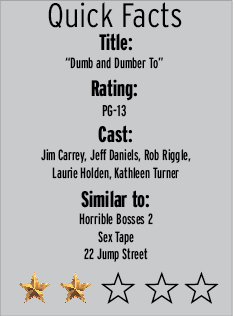 As funny as Riggle is, his character in the film is almost a complete play off of the thug with an ulcer from the first film. One thing that does add a bit of laughter to the film is the number of unexpected cameos. 
Sequels are such a tough nut to crack. For the Farrelly brothers, who were at one point in time kings of adult comedy, with such films as "Kingpin," "There's Something About Mary" and "Me, Myself & Irene," have fallen far with their last couple of films.
I hope these guys can figure out a way to get back in the game; they do have talent. I'm not sure how many more of these sleepers we can take.
"Dumb and Dumber To" is not the worst comedy of all time.
If you are feeling nostalgic and want to kill some time, you should check it out. It is definitely good for a few laughs.
Story by John Gruccio, Contributing writer