Like many people, I had no idea what I was walking into when I purchased my ticket to see Christopher Nolan's newest film, "Interstellar."
To make the broadest of indications, I do not think I have seen a film like this. The majority of his films are long and packed with a rich story, and this film was no different. "Interstellar" is a Nolan masterpiece and a signature checkmark to one of his own directing idols, Stanley Kubrick.
In a time when all the world's resources are almost gone, a decision must be made on what to do for the survival of the human species.
One man has to put it all on the line in order to save mankind from certain extinction.
His mission is to pilot a spacecraft that will use a newly discovered wormhole in deep space to find a new ecosystem capable for the rest of the world to live in.
If used correctly, the wormhole will take the spacecraft through vast distances of interstellar travel, while also surpassing the limitations of human space exploration.
By voyaging into deep space, he has the ability to unlock civilization-old mysteries in our universe. But as a father, he will have to risk this once-in-a-lifetime chance with the possibility of never being able to see his
children again.
"Interstellar" stars Matthew McConaughey, Anne Hathaway, Jessica Chastain, Casey Affleck, David Gyasi, Bill Irwin, John Lithgow, Mackenzie Foy, Wes Bentley, Topher Grace, Ellen Burstyn and Michael Caine.
The film is directed by Nolan with a screenplay from Nolan and his brother, Jonathan.
In his first performance since his Oscar win, McConaughey wows the audience again with his uncanny determination.
This film at its heart is an ensemble film; if one person fails then the film fails. Every person in the film pulls their weight and helps make it the best it can be.
I will say though that veteran actor Irwin does a remarkable job as the robot, TARS. The camaraderie that McConaughey and Irwin show throughout the film is hysterical and respectful of one another's craft. 
The young Foy is another joy to watch. It can be hard for young actors and actresses to get a break in today's industry, but she will have a bright future.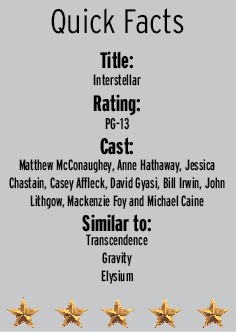 Nolan has shown he does two things best when it comes to film: pulling off the visually impossible and knowing who to work with to make his film the best.
This film, visually, will blow your mind. It will make your innermost science nerd come out and play.
Nolan decided to work with renowned physicist Kip Thorne to help ground the film through the grit of the scientific anomalies.
From the emotional pleas delivered by McConaughey to Caine's multiple and heartfelt recitings of the famous poem, "Do not go gentle into that good night" by Dylan Thomas, you will find yourself lost in the characters and their words if not the visuals and the legendary score by Hans Zimmer.
If you want to see one movie this fall, you owe it to yourself to see "Interstellar."
I know that it is almost three hours long, but trust me, you will not regret it.
Story by John Gruccio, Contributing writer