This fall, we have been treated to so many great dramatic films. Most of them have real and unique sparks of genius that made them great movies. Jake Gyllenhaal's new film, "Nightcrawler," is the same.
In Los Angeles, there is plenty of crime. Whether it is rape, murder or arson, it's everywhere.
For young Louis Bloom, freelance journalism is where the money is.
As a novice in the trade and with help from a local TV news anchor, he slowly muscles into the high-speed world of night crawling.  
With persistence and dedication, Bloom is soon everywhere a siren screams.  As time progresses, he starts to become obsessed with a ceaseless search for footage, which eventually leads him to be the star of his own story.
"Nightcrawler" stars Gyllenhaal, Rene Russo, Riz Ahmed, Ann Cusack and Bill Paxton. The film is written and directed by Dan Gilroy.
Ever since his role in 2013's abduction drama "Prisoners," Gyllenhaal has just been on fire. In "Nightcrawler," Gyllenhaal portrays freelance cameraman Louis Bloom who has a drive to succeed in his field. His drive, however, takes some dark twists and turns as Bloom starts to fancy himself an artist in a world of crime. 
It is no secret that Gyllenhaal has taken some risks with his films.
However, this one could be his most risky. Not only did Gyllenhaal lose weight for the role, but he makes us aware of his presence on the screen in a way that is both creepy and poisonous. 
The way Gyllenhaal turns from eccentric cameraman to an almost sociopathic artist is amazingly done.
He delivers a great performance once again.
Director Dan Gilroy, in his first time as director, nails it.
The world he creates is so disturbingly beautiful it makes you question if a world could be that dangerous.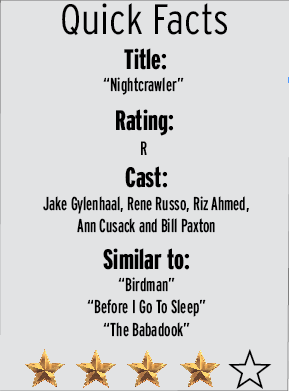 Giving the film a bit of realism, supporting actors Rene Russo and Bill Paxton star as a ruthless news director and a fellow night crawler that start off as pawns in Gyllenhaal's game, only to become his enablers.
In a film like this, you need veterans in order to keep such a hard character as Gyllenhaal's Bloom in check.
The only part I had an issue with was that Gyllenhaal's character doesn't really know how to stop.
Even though he gives probably one of the best performances in his career, the character does start to become erratic and reckless.
The film also has constant shifts from beginning to end, which can grow tiresome after awhile.
This film will surprise you by making you sympathize with characters no matter the varying levels of intense, almost sociopathic behavior.
If you want to see a film that will intrigue and shock you, then definitely go see "Nightcrawler."
Story by John Gruccio, Contributing writer