Kimberly Mason, director and case manager at the Gentry House, could hear the phone ringing before she could get the door open to her office.
While on the phone she explained to a client how to fill out an application for Gentry House, but informed her that she would be put on a waiting list until a unit became available.
The bustling transitional shelter was ready to close down less than a year ago.
The Gentry House provides temporary housing for families in need. Mason said that 3 to 4 families are on the waiting list at any given time.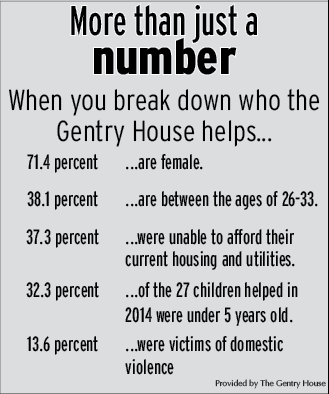 THE 'COUCH-SURFING HOMELESS'
The Gentry House is the only homeless shelter within a 20-mile radius of Murray.  The Graves County Mayfield Mission is the next closest shelter. Mason said many Murray citizens do not believe there is a homeless population in the city.
"In Murray it's not people on corners holding signs, it's the couch-surfing homeless," she said.
In its report to Murray City Council, the Gentry House said homelessness in rural areas looks different than in urban ones. Homeless families in rural areas may stay in temporary housing like motel rooms, campers and vehicles.
HOW GENTRY HOUSE HELPS
The goal of the Gentry House is to help the homeless help themselves, according to its mission statement.
In the 2014 fiscal year the Gentry House reported helping 18 adults and 27 children. More than 32 percent of those children were less than 5 years old. The Gentry House targets families because homelessness presents dangerous situations for children especially.
"We've helped 15 families since January and I think we will help up to 40 before the year is over," Mason said.
Applicants are required to have full custody of their children, they must have an income and pass a background check before being approved.
The Gentry House reported that 38  percent of its clients were between the ages of 26 and 33 and 71 percent were female.
Mason said clients are housed in fully-furnished two-bedroom apartments rent-free and utility-free for up to 90 days.
The Gentry House reported 14 percent of its clients were victims of domestic violence seeking shelter and 37 percent were there because they were unable to afford housing and utilities.
"Everybody who comes here has a different situation," Mason said.
BACK FROM THE BRINK
In December 2013, the Gentry House board of directors voted to close the agency because it lacked sufficient funding.
In January 2014, Mayor Bill Wells proposed that the city and county each give the Gentry House additional funds to keep its doors open. The board met later and retracted its decision to close.
Robert Lyons, assistant dean-professor of Education, is the new board chairman for the Gentry House.
"Grant funding dried up and there is always lag time between need and donations," he said.
The Gentry House hired a volunteer director during the spring and summer to save money for this fall and winter.
Lyons said the Gentry House would be able to cover 90 percent of its expenses this fiscal year.
"We've got enough money on hand to pay utilities, maintenance and operational expenses and salaries through July 1," he said.
The new director, Mason, was hired in September to assist with fundraising and grant writing. She said she had to start from scratch revising policies and procedures.
"It's been crazy and good all at the same time," she said.
Recently the Gentry House submitted a grant to the Calloway County Rotary Club requesting funding for educational programs that would be offered to tenants.
"We want to teach classes about financing, parenting and coping skills," she said.
Because the Gentry House is a nonprofit agency, it is responsible for self-funding annually.
Lyons said the Gentry House accumulated approximately $10,000 from fundraising in the 2014 fiscal year.
"The main responsibility of the board is to fundraise," he said.
On Oct. 13, Wells named Nov. 15-23 to be "Hunger and Homeless  Week."
During this week the Gentry House will distribute miniature bank houses to schools to collect change for its fund, take up donation offerings at churches and request rebate nights at local businesses.
"Each year we plan on doing something bigger and better," Mason said.
The Gentry House reported receiving $12,000 from the city and county and more than $6,000 from churches.
Kate-la Nicholson, senior from Fulton, Ky., said she volunteered at  the Gentry House for one of her classes.
"Even if you are attending school or have a job you can come here to get back on your feet," she said.
Nicholson said she heard about the Gentry House at a nonprofit connections event hosted earlier this year.
She is accompanied by three other volunteers at Gentry House who help with daily projects and fundraising.
Lyons said next year he wants to work with student groups on campus to raise awareness about homelessness and the services the Gentry House provides.
"It is just as important as other causes the University supports, but it's not something that people like to talk about," he said.
Story by Mari-Alice Jasper, Staff writer