The Murray State men's golf team finished sixth out of 12 teams at the Austin Peay State Intercollegiate in Hopkinsville, Ky. Monday and Tuesday.
Junior Duncan McCormick led the men's team, placing 14th with scores of 71-69-72 and an overall score of 212.
"Junior Duncan McCormick played in the lineup for the first time and had a really outstanding tournament," said Head Coach Eddie Hunt. "McCormick had his best tournament since he has been at Murray State."
The Racers finished ahead of Tennessee Tech, with an overall score of 871.  Following Tennessee Tech was Eastern Illinois with an overall score of 873. The host, Austin Peay, won the event with a score of 842, just ahead of UT Martin's 850.
Junior Brock Simmons played as an individual in the event and placed 57th. He shot rounds of 75-75-78 for an overall score of 228.
Hunt was disappointed in the results of the tournament at Austin Peay and said the Racers could have played better. He said the weather conditions on the course were some of the best the Racers have ever had at the Austin Peay tournament.
"We played OK, we just did not play as well as we should have, and we did improve a little bit on the last day," Hunt said. "We could have played better."
The Racers play in their final tournament of the fall season at the Old Corkscrew Intercollegiate at Florida Gulf Coast next Monday and Tuesday.
"It will be a really strong field with some teams we don't normally play – some of the Florida teams," Hunt said. "It will probably be one of the toughest field of teams that we will face this year. It should give us a good finish for the season and get ready for the spring season."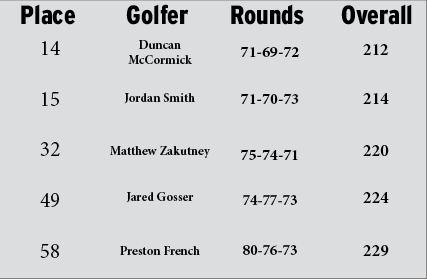 Story by Heath Ringstaff, Staff Writer