"Fury," another long-awaited film, cashes in on being a real war movie. Since "Saving Private Ryan," there has not been another like it. With a killer cast and a score that would give a horror film a run for its money, "Fury" is a brilliant success.
"Fury" takes us back to the last leg World War II. A battle-hardened sergeant by the name of "Wardaddy" and the rest of his crew must take its Sherman tank on a deadly mission behind enemy lines in Nazi Germany.
Each man is tired and homesick, but they must continue their fight so they may see home once more.
As they become outnumbered, outgunned, they will face odds so far out of their depth that their attempts will render them heroes as they fight to the end.
The film stars Brad Pitt, Logan Lerman, Shia LaBeouf, Michael Pena, Jon Bernthal and Jason Isaacs. "Fury" is written and directed by David Ayer.
When producing a movie of this magnitude, it is important to have one lead actor who can take charge of the screen.This film was destined for greatness when Brad Pitt took on that role as Sgt. Don "Wardaddy" Collier.
Pitt commands and shows tough love as he leads this small group of talented actors. Pitt could be our generation's Charlton Heston.
I don't know if there is something in the water in Hollywood, but with other films this month such as "Gone Girl" and "The Judge," we have seen so many big- name actors give such levels of complete vulnerability and Pitt does exactly the same. As a film lover, I find this refreshing.
Lerman shows what is likely the most dramatic change of the whole film. Starting out as a naive and innocent misplaced solider, he becomes a hardened and battle-ready tank gunner.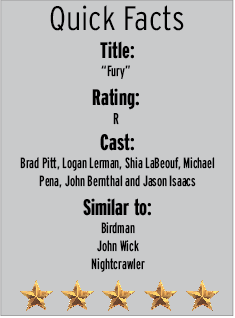 Seeing Pitt and Lerman together on screen is spooky because as you watch the two of them together you know deep down that Lerman could quite possibly be the next generation's version of Pitt. Lerman, who has already worked with  Russell Crowe and Jim Carrey, is astonishing in this film.
We see this kid we all love struggle and then bear witness to the brutal schooling he must take to manhood.
Manning the rest of the tank is the trio of LaBeouf, Pena and Bernthal. LaBeouf is such a revelation and gives a performance so profound that all of his past transgressions as an actor are forgiven. Pena provides comic relief especially since Bernthal is unrecognizable as a hardcore redneck with a heart of gold.
Ayer, who recently directed the gritty cop drama "Sabotage," has another success on his hands.
Not only do you feel like you are in Nazi Germany, but the actions out of these five unlikely souls is brutal.
With an eerie score by Steven Price, we are able to see the demons these men have as they try to survive war.
Story by John Gruccio, Contributing writer