The men and women's cross-country teams started out falling at the Bradley Classic in Peoria, Ill., Oct. 17 with the men finishing 22nd out of 26 teams and the women finishing 20th out of 30 teams.
The University of Illinois won the women's race with all five of its the top runners placing 31st or better on the six-kilometer course.
The Racers' best runner, freshman Meagan Smith, finished 68th with a time of 22 minutes 32 seconds on the six-kilometer course. Sophomore Emma Gilmore and freshman Caroline Grogan also cracked the top 100, placing 76th and 79th, respectively.
Head Coach Jenny Severns said the Racers had an off day at the Bradley Classic.
"We haven't really had an off meet so far this season, so it was probably best to just get it out of the way now," Severns said.
The men's team was paced by Cole Cisneros, who finished 122nd with a time of 26:39 in the eight-kilometer race. Lucas Prather, Gavin Galanes, Mark Ventura and Evan Staviski rounded out the Racers' top five finishers.
"It just happens," Severns said. "Sometimes everybody has been training really hard, and it just happens."
The Racers will run next at the OVC Cross Country Championship, hosted by Jacksonville State Nov. 1 in Jacksonville, Ala.
"I believe that they are ready, and I think they are definitely ready to prove that we are better than what we showed last week," Severns said.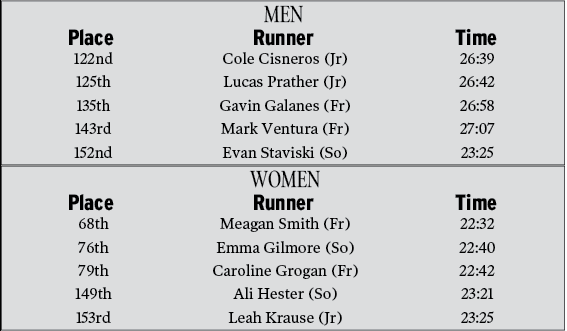 Story by Heath Ringstaff, Staff writer