With the heated Nov. 4 Senate election two weeks away, Democratic Senate candidate Alison Lundergan Grimes brought former President Bill Clinton to western Kentucky to a crowd of 1,750 Tuesday. Clinton reinforced many of the themes Grimes highlighted during her challenge to U.S. Senate Minority leader Mitch McConnell, including bringing more jobs to Kentucky, raising the minimum wage, securing healthcare and jump-starting the Kentucky economy.
Clinton said it is crucial student loan interest rates be lowered so students can spend less time paying them back.
"This isn't rocket science; it's simple," he told the crowd at McCracken County High School in Paducah, Ky.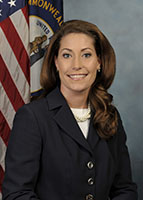 Clinton praised Grimes as a candidate, saying she has kept her composure under the weight of $50 million in negative campaign ads run against her by McConnell's campaign and Republican groups.
"We aren't going to get anywhere hating our neighbors," Clinton said.
Clinton ended his speech by saying Grimes has the best interest of Kentuckians at heart and that he loved the crowd.
Earlier in the day, the former president was in Owensboro, Ky., campaigning for Grimes.
This is the third time Clinton has campaigned for her throughtout this year's U.S. Senate race.
This also isn't the first time Clinton has made an appearance in Paducah. The night before the 1992 presidential election, he was in Paducah.
He spoke of that night and recalled losing his voice and saying to the people, "If you will be my voice tomorrow, I will be your voice for the next four years."
While Grimes hasn't said much about President Barack Obama, she praised Clinton – the last Democratic presidential candidate to carry Kentucky.
"I am a Clinton Democrat and that's the kind of senator I will be for Kentucky," Grimes said.
During her speech, Grimes showed support for term limits for senators.
"I will be handing (McConnell) his term limit on Nov. 4, and then we will go to Washington and work for term limits because 30 years is long enough," Grimes said, referencing McConnell's time in the Senate.
Gov. Steve Beshear, former Gov. Martha Layne Collins, Attorney General Jack Conway and former Gov. Julian Carroll appeared at the rally to show support for Grimes.
Grimes said she will be a senator for the people of Kentucky and will keep their best interest in mind in Washington, D.C.
"We have someone who has turned his back on the people of this state," she said.
Grimes criticized McConnell's attendance rate in the Senate during his time in office.
"If you showed up to work 7 percent of the time, you would be fired and with your help Mitch McConnell will be too," Grimes said.
She discussed coal, one of the main issues in the election. Grimes said on McConnell's watch, thousands of coal jobs  were lost and one of her main goals in office is to fix that loss.
Grimes touched on issues regarding raising the minimum wage, lowering student loan interest rates and strengthening the middle class in Kentucky.
Grimes said even though her opponent claims she will be less listened to when it comes to on voting for important issues for the state, it will not be the case.
"This Kentucky woman will not sit on the back of the bench; no Kentucky woman ever will," she said.
The latest Bluegrass Poll, released Monday, showed McConnell with a one-point lead over Grimes, 44-43 percent. The poll has a 3.9-point error margin.
In the last Bluegrass Poll issued two weeks ago, Grimes had a two-point lead over McConnell. However, in August, McConnell was up with a four-point lead against his Democratic opponent.
David Ramey, Calloway County Democratic Party chairman, said Clinton coming to western Kentucky shows how important the city is to the election.
"Clinton was excited to be back in Paducah; the area means a lot to him," Ramey said. "The voters have respect for him and it was a great night."
He visited with Grimes and Clinton backstage at the event.
Ramey said Calloway County supported Grimes when she ran for Kentucky Secretary of State.
He commended all of the supporters of Grimes' campaign.
"The young people and all Grimes' supporters have been tremendous in this campaign," Ramey said.
Allison Moore, spokeswoman for McConnell's campaign, issued the following statement in response to Grimes' rally: "It's a good thing there are only two weeks left until the election because Alison Lundergan Grimes' blunder of a campaign has finally hit rock bottom. Kentuckians have already figured out that Grimes relies on false attacks and baseless claims when she has either lost her Obama policy manual, her hypocrisy has again been exposed or when she's trying to cover up her dad's purchase of Silent Bob's bus for her campaign to ride in luxury."
Story by Rebecca Walter, News Editor