With Robert Downey Jr. being a giant star these days, thanks to such movies as "Iron Man" and "The Avengers," a lot of people were skeptical when "The Judge" was first announced.
I can see their skepticism, but here's the thing: Downey Jr. was, once upon a time, a great dramatic actor and now he has shown us all that he has still got it.
The story centers around Hank Palmer, a big time lawyer, is forced to travel back to his hometown in Indiana to attend his mother's funeral.
While there, his father, a long-serving circuit court judge who is arrested for suspicion of murder.
Besides the fact that the two do not get along, serious questions are raised, forcing him to prolong his stay. Anxious to find the truth, Hank must deal with unresolved issues between him and his father. Along the way, if successful, he can finally reconnect with his family.
"The Judge" stars Robert Downey Jr., Robert Duvall, Vera Farmiga, Vincent D'Onofrio, Dax Shepard, Jeremy Strong, Leighton Meester and Billy Bob Thornton. David Dobkin directs the film with a screenplay by Nick Schenk and Bill Dubuque.
Downey Jr. is so refreshing in this movie, not only because it is a movie where he does not fight aliens, solve crimes or wear his usual suit of armor, but as many other actors do, he has the ability to dig deep into dramatic territory and show you a completely different side of him, and he makes you believe in his performance.
A legend of film, Duvall may have possibly given one of the best performances of his career in this film.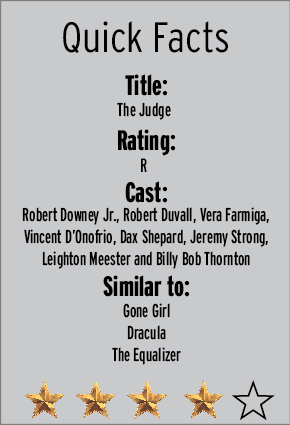 Duvall plays an aged and cantankerous man of morals and respect, but we also see a person who is burdened and filled with raw emotion. Nobody but Duvall could have played this role.
When we first see Duvall and Downey on screen together, it is almost like an ultimate boxing match between one man baring his soul and the other showing why he is a legend.
The supporting cast of this film is filled with big-name actors from Farmiga ("Bates Motel") to Thornton ("Fargo"). Farmiga is particularly dazzling as Downey's former high school sweetheart and love interest.
Dobkin is particularly surprising with this film. Having previously directed "Wedding Crashers" and "The Change-Up," this is definitely a change for him, but he handles it beautifully. The dialogue in this film is intense and powerful.
The way Duvall's character describes his courtroom as, "The last great cathedrals of this country, built on the premise that you and you alone are responsible for the consequences of your actions," is just pure poetry.
The film only has a few issues that I felt really were troubling, the film's story, while hard-hitting and emotional, can drag on a bit.
Nonetheless, it is still a great drama and one that you should take the family out to see. This is a film that hits you at your core.
Story by John Gruccio, Contributing writer