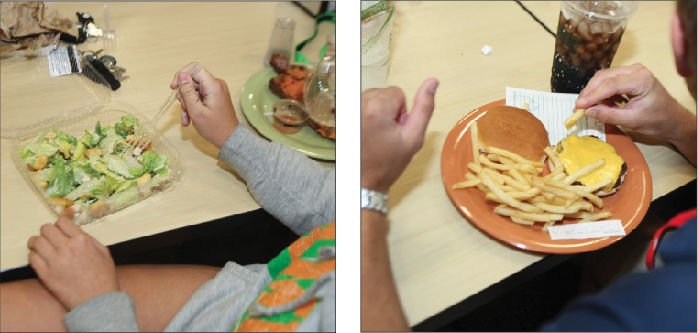 Many college students worry about the dreaded "freshman 15" which could be gained while living away from home.
Emily Hannan, sophomore from Paducah, Ky., said eating healthy is important to her.
"Eating healthy on campus is easy, but you have to want to eat healthy because there are also many unhealthy options," Hannan said.
Some students say there are too many unhealthy choices surrounding them in Winslow Dining Hall and the Thoroughbred Room.
Paula Amols, director of Dining Services and Racer Hospitality, said there are ways for students to eat healthy on campus.
"On the dining website there is a link for healthy eating; you can pick Winslow and the T-Room and it lists all the items that we have that are healthy options, and also vegetarian options," Amols said.
Nutritional information can be found on the Dining Services website or in each place to eat on campus.
"In the T-Room there is a baker's rack of binders that have nutritional values of everything that is served on a daily basis," Amols said. "In Winslow the information is on the bulletin board next to Salt and Pepper or on the meal cards by the food."
"The demand for healthy alternatives has prompted Dining Services offer a healthier option alongside what is normally served. "In Winslow brown rice is being offered along with white rice. Winslow now offers a side salad made with different grains," Amols said. "At the pasta station in T-Room, one of them is 51 percent whole wheat pasta. Fresh roasted vegetables are being offered at the grill if a student did not want French fries or mozzarella sticks. Also, in Winslow on the hot line for both lunch and dinner, there is a plain meat and plain steamed vegetables."
Through various services, students can sit down with other students enrolled in a nutrition classes to give tips on how to eat healthy.
"One of the students is available to sit down with a student that wants to follow a special diet, whether it is medical needs or if the student is looking to cut back on fats or carbs. They will sit down and go over what your needs are and what is available and help you put together a healthy diet,"Amols said.
Although there are ways to eat healthy while dining in Winslow, some students do not think it is all that easy.
Sydney Cline, freshman from Louisville, Ky., said she believes eating healthy in Winslow is not the easiest.
"It's pretty easy not to eat healthy with all the desserts around you," Cline said. "More fresh fruit options would make healthy eating a lot easier."
"It's not easy to eat healthy at Winslow because there is only a limited amount of things offered each day," Taylor Bartnick, sophomore from Hillsboro, Mo. said.
Amols said there are options for healthy eating and ways to calorie intake or other dietary needs.
"There is a lot of healthy options available for students right now, and if we see the demand continue to grow there's more we can do," Amols said. "There just has to be enough students want for it to happen."
Story by Brittany Risko, Staff writer