Intramural softball season: a time for students to take a break from classes, step on the field and play for their favorite organization.
Students kicked off the first intramural sport of the year with games starting last week.
Quintin Bergman, junior from Festus, Mo. and member of Sigma Chi fraternity, said one of his favorite things about the season is the sense of camaraderie.
"The competition is a great part of intramurals," Bergman said. "It's a great way to be involved within your organization. It's nice to see everyone supporting one another."
The major sports for the 2014-15 school year are slow-pitch softball, basketball, volleyball, soccer, flag football, dodgeball, ultimate frisbee and inner tube water polo.
Jacob Payne, freshman from Hardinsburg, Ky., said he likes the different skill levels and the laid-back feeling of intramural sports.
"I am excited to play with people I don't necessarily know," Payne said. "Since I'm not on a varsity team this gives me the opportunity to make friends, stay active and not feel the pressure of being a student athlete."
With residential college, independent, fraternity and sorority teams all ready to play slow-pitch softball, students are lining the bleachers with signs, music, competition and spirit.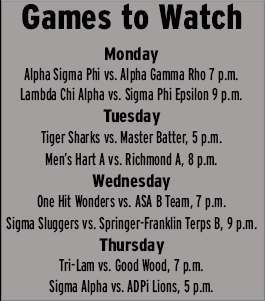 "Even though I don't play the sport I still enjoy coming out to watch," said Aida De La Fuente, senior from Louisville, Ky., "I always think about playing more intramurals, but for right now I'll just come out and support the people I care about."
Though not every student goes to watch or plays for competition, some students chose to play to help keep them in shape.
Jordan Norber, junior from St. Louis, Mo., says he was just looking to avoid the "freshman fifteen" when he started intramurals.
"I originally began playing intramural sports my freshman year because I was scared of the almighty freshman fifteen," Norber said. "I came to enjoy the sportsmanship and friends I made. I've since then been playing with two teams and I'll continue to play until I graduate."
The slow-pitch softball season kicked off Sep. 8 and lasts until Oct. 8.
The next intramural season, flag football, kicks off Oct. 20.
Story by Kelsey Randolph, Contributing writer