On Sept. 3 a caller from Hester Residential College told Public Safety and Emergency Management about a Murray State student sexually assaulted off campus.
Murray State Police notified the Mayfield Police Department, which is investigating.
It was the second time this semester Public Safety officers responded to a call about an off-campus sexual assault of a student.
Last month, a caller from Franklin College alerted officers to a sexual assault, according to the police logs.
The call stemmed from an incident last spring in which the student declined to press charges, Robert Bringhurst, captain of operations for Public Safety and Emergency Management said.
"Somebody else overheard (the student) talking about what happened," he said. "She had reported to us in April. She did not want to follow up with any other law enforcement."
Even though the incidents happened off campus and are out of Public Safety's jurisdiction, Murray State officers provided the students with counseling information, as well as contact information for the University's Title IX coordinator, which is responsible for assisting with sexual assault education and awareness.
Murray State officials, like leaders of other campuses, are seeking to raise awareness about sexual assault and ways to prevent it.
This fall, the University is asking students to take online training about harassment, discrimination and sexual assault. President Bob Davies, at his first Board of Regents meeting last month, pledged the University would have a "zero tolerance policy for sexual violence."
HOW IT'S HANDLED
Where an attack happens determines how it is handled next.
Abigail French, director of the Women's Center, said incidents of sexual assault occurring off campus are referred to either the Murray Police Department or the Calloway County Sheriff's Office.
The Women's Center, Counseling Servies, Health Services, Public Safety, Office of Institutional Diversity, Equity and Access, the Title IX Coordinator and the Student Affairs Judicial Board can assist students who are victims of or have questions about sexual assault.
"It is important for students to know there are options available to them if they are a victim of sexual assault or know someone who is," French said. "We want students to know we are here for them and that they are able to come to us about these issues."
Murray State can take action against a student or University employee who is found guilty of the assault.
The University's student handbook's section on Policies on Sexual Misconduct, Unwanted Pursuit and Relationship Violence, says the sanctions for these events can include "expulsion, suspension, disciplinary probation, recommended counseling, and/or other educational sanctions deemed appropriate by the hearing body. In cases where the perpetrator is an employee of the University, sanctions range from a reprimand to termination."
Roy Dunaway, interim chief of Public Safety and Emergency Management, said the Murray State Police Department recognizes the serious effects of a sexual assault.
"Officers use their skills and experience to assist victims of sexual assault and to conduct criminal investigations of these offenses. Officers will also direct victims of sexual assault to the appropriate support services available to students," he said.
Dunaway said the role of Public Safety is to ensure that investigative procedures of sexual offenses are thorough and consistent for successful investigations to ensure consideration for victims.
He said the University takes all the appropriate steps to investigate and respond in a manner consistent with a student's confidentiality request and will notify the student if the University cannot ensure confidentially.
A NATIONAL PROBLEM
Five percent of women on American college campuses are raped every year, according to oneinfourusa.org.
In a national survey, 37.4 percent of female rape victims said they were first attacked between ages 18 and 24, according to the Centers for Disease Control's Violence Prevention.
Women are not the only ones who are at risk for sexual assault. According to the Cleveland Rape Crisis Center, 3 percent of college men report surviving rape or attempted rape as a child or an adult.
The Campus Sexual Assault Study by the National Institute of Justice found sexual assaults are most likely to occur in September, October and November on Friday and Saturday nights between the hours of midnight and 6 a.m.
The study also found most victims of physically forced or incapacitated sexual assault were assaulted by someone they knew.
REPORTING ASSAULT
If a student requests confidentially and decides not to press charges in a sexual violence case, an anonymous report of the incident must be made in order to comply with campus crime reporting.
If the safety of others in the community could be at risk, the good of the community may outweigh a student's confidentially request, according to the Addressing Sexual Harassment and Sexual Violence pamphlet.
The Murray State Police Department will also contact the University's Title IX Coordinator, Camisha Duffy, at the Office of Institutional Diversity, Equality and Access.
The Title IX Coordinator is responsible for the University's Administrative Investigation of all reported sexual assaults.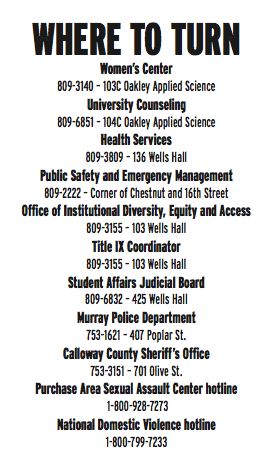 Don Robertson, vice president of Student Affairs, said the campus has recently looked at codes and policies to make sure the University is up to date with Title IX and the Violence Against Women Act.
This year's new online training about sexual harassment and assault is required for faculty and staff. It's available on MyGate. Students are strongly encouraged to look at the modules as well. Those who take the quiz must score 100 percent to pass.
They are quizzed on policies, Title IX and different procedures one might come across regarding sexual assault. The module has to be completed by Oct. 3.
"(The University) has always worked hard to have prevention and awareness be a part of the campus discussion," Robertson said. "Our goal is to have this campus to be as safe and secure as possible. There can always be more education and discussion."
Story by Rebecca Walter, News Editor