Like clockwork, we are introduced to a couple months of semi-scary horror movies that lead us up to Halloween's fresh batch of frights. Sometimes we get lucky with these films and we get even more excited for Halloween to come. "As Above, So Below" is not one of those films to get excited about.
Desperate to finish her father's quest, a young researcher gathers a small team to journey into the catacombs that lie beneath the beautiful streets of Paris.Everyone knows the tales that have been told about the catacombs, especially the ones featuring death.
However, this group of adventurers soon learns that even darker secrets have haunted these underground tunnels for a very long time.
The film stars Perdita Weeks, Ben Feldman, Edwin Hodge, Francois Civil, Marion Lambert and Ali Marhyar. It is directed by John Erick Dowdle (Devil).
For a "found footage" psychological thriller, I have to admit this film had an interesting concept.
I have never seen a movie use this type of 'found footage' filming while going underground and in foreign areas. As an almost unknown cast, this particular group of American and French actors collaborated well.
As thrillers go, this film had a good eeriness to it and a creepy score to go in hand with it.
The usefulness of the score is really justifiable seeing as within these catacombs, you have no idea what is in front of you or behind you.
With all of that being said, it would have made a very good Netflix film, but not a theatrical one.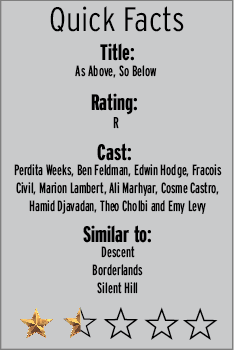 The overall plot may be intriguing with spiritual intuitions and references to Hell, but the story makes no sense whatsoever. Whenever we get glimpses of the researcher's true intentions, the film jumps to something else.
Other than the catacombs, we never get a clear look at anything else in France. Since this film was shot on location in Paris, it is kind of disappointing.
Besides some skull crosses and a little bit of blood, you really do not get to see anything mesmerizing about the haunted catacombs.
The male and female leads are not only predicable, they are also very stereotypical. At times during the film, I forgot that I was watching this film and found myself seeing a crappy version of either Lara Croft or Indiana Jones running through underground Paris.
"As Above, So Below" is creative and intriguing. But it lacks all the right necessities to make a thriller – one being, for lack of a better word, thrill.
Save your money, wait for Redbox if you must. Or just catch it on Netflix in a year or so.
Story by John Gruccio, Contributing writer