The 2014-15 Murray State men's basketball schedule was released Tuesday. Fifteen games will be played at the CFSB Center, featuring opponents such as Houston, Western Kentucky and Illinois State.
"We've put together a challenging non-conference schedule that will prepare us for the rigors of league play," said Head Coach Steve Prohm on GoRacers.com. "To go along with a great home schedule, we have road games that are in close proximity, so our great fan base will be able to support us."
The Racers hit the home court Nov. 6 in an exhibition against Freed-Hardeman. They open the regular season at home on Nov. 14 against Houston.
This will be the first time since 1955 that the Racers have played the Cougars, and the first time Murray State has ever faced an American Athletic Conference team.
The Racers have a 24-straight home opener winning record since 1989, and are 16-0 in home openers in the CFSB Center.
Murray State's first away game will take place at Middle Tennessee State University Nov. 18. After a home game against Brescia on November 20, the team will travel to Cincinnati to play Xavier, another team they haven't faced since 1955.
The Racers will also travel to Nashville to play in the Challenge in Music City Nov. 28-30, where they will face Valparaiso, Drake and Portland over a three-day span.
This will be the third straight season the Racers have played Valparaiso, but they haven't faced Drake since 1938 and Portland since 1984.
"The opportunity to play in the Challenge in Music City is one that we're pleased about," Prohm said on GoRacers.com. "We really need our fans to come down to Nashville and make this a home court advantage for us."
The tournament, held at Municipal Auditorium, will allow the Racers to play on the court where the OVC Tournament will be hosted in March.
The list of televised games will be available at a later date.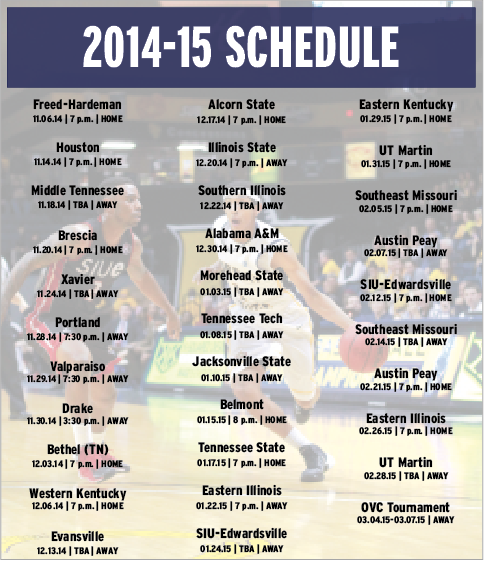 Staff Report