In today's world, we see unimaginable acts of violence every day; however, films are always there to act as a gateway to something more.
Through films we are given a reminder of how depraved a world is without any order, which is the case with Robert Rodriguez and Frank Miller's action-packed sequel, "Sin City: A Dame to Kill For."
After being summoned by his former lover, Ava Lord (Eva Green), the cunning Dwight McCarthy (Josh Brolin) must help her escape the clutches of her evil husband, Damien. However, he soon finds that there is more to the story than meets the eye.
After the death of detective John Hartigan, Nancy Callahan (Jessica Alba) has become depressed and bitter. Nancy decides to finish things once and for all and kill Senator Roark (Powers Boothe). Nancy soon finds out that she might have unexpected help with this particular mission.
The newcomers to the franchise are Brolin, Green and Joseph Gordon-Levitt. As Dwight, Brolin is as dramatic and stubborn as we love to see him, while Green proves how evil and manipulative she can really be.
On the other hand, she is also beautiful and sultry. Green, who is definitely not afraid to show certain parts of herself on the big screen, embraces a brave motif of a film noir starlet.
This particular role had huge A-list celebrities such as Angelina Jolie and Anne Hathaway attached to it once upon a time.
Gordon-Levitt keeps getting better and better as an actor. In this film, I can't help but see a glimmer of a young Marlon Brando.
As the tough, yet lovable Johnny, Gordon-Levitt shows a vulnerability and determination in ways we have not seen out of him before.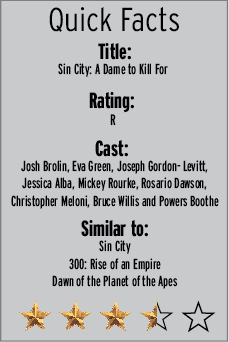 Although newcomers Brolin, Green and Gorden-Levitt shone bright, much of the returning cast left something to be desired. Rourke's character is just as violent as in the first film, nothing new. Willis is distant even for a guiding spirit to Alba's Nancy.
The film's supporting cast is underutilized for a film like this. The main part of the film I have an issue with is the conclusion: it was unsatisfying for a film of its stature.
I recommend seeing the film in 3D, you will not regret it. Sin City is mesmerizing, especially when it comes to scenes with Green's Ava Lord.
The sequel definitely delivers on expanding the city from the first film. My hat is off to Miller; adapt his own award-winning novel to a film version is not an easy task.
My sincerest hope is that we do not have to wait another decade for the third Sin City.
With lots of gruesome action and sensual visuals, "Sin City: A Dame to Kill For" has a lot of promise.
Yes, it has its faults like most movies, but in a summer chalked full of comic book movies, this movie is far from the worst of them.
Story by John Gruccio, Contributing writer