For the first time ever, the University has taken an in-depth look at incoming freshmen from a survey distributed throughout the entire class.
President Bob Davies said the survey serves as an excellent resource for a better understanding of the freshman class as a whole.
"(The survey) is extremely helpful to us when it comes to strategically planning," he said.
Of the freshman students this year, 871 completed the online survey.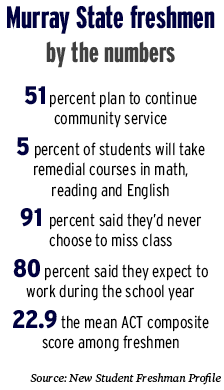 According to Fred Dietz, associate vice president of Enrollment Management, there are approximately 1,500 new freshmen this fall and 700 new transfer students.
Questions ranged from average ACT score and how much time students planned to spend studying, to questions about missing home and why they chose Murray State.
There is a large gender gap within the class, with 591, or 67.6 percent, being female and only 280, or 32.1 percent being male.
Coming into college, the class had an average ACT score of 22.9 for men and 22.96 for women.
Several freshmen are enrolled in fall 2014 remedial courses, according to the survey.
Math remedial courses are the most common, with 116 students saying they are taking one.
Reading was the next most needed remedial course, followed by English. Five percent of respondents will need to take remedial courses in all three subjects.
"This is a key issue we need to talk about," Davies said.
The class proves to be optimistic with their attendance, with 91 percent of respondents saying they would never choose to miss a class.
Hannah Craig, freshman from Memphis, Tenn., said the high 91 percent statistic surprised her.
"That large of students never skipping class seems sort of idealized," Craig said.
Ally Buhr, freshman from Bloomington, Ind., said freshmen are probably the least likely to skip class.
"Upperclassmen are the ones who feel the most comfortable with skipping class," she said.
Freshmen are preparing to crack down on studying though, with a majority expecting to spend at least 6 to 10 hours a week on assigned readings.
Respondents seem to be financially aware, with 37 percent saying paying for college expenses is "very difficult," and more than 80 percent expecting to work for pay during the school year.
Eighty-two of the 120 Kentucky counties are represented within the freshmen class and come from 30 states and 30 countries.
Story by Rebecca Walter, News Editor