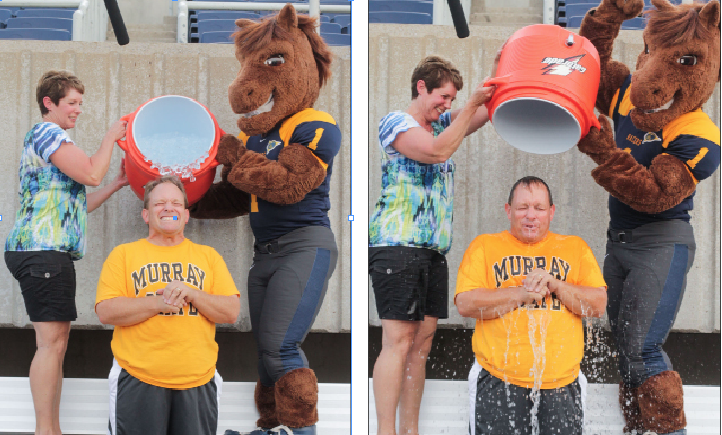 If you were president of the University for a day, what would you change?
President Bob Davies has asked this question to students across campus and heard their suggestions, advice, compliments and input.
"I have received a lot of interesting and useful answers," Davies said.
The most common suggestion has been improvements to Murray State's parking across campus.
Other responses have varied from making Quidditch an intramural sport, keeping tuition low, being interactive with students and giving men's basketball Head Coach Steve Prohm a lifetime contract.
Davies said he's making a point to meet as many students as possible and to ask them their name, classification, major and what they hope to get out of their college experience.
Cheyenne Kruk, freshman from Clarksville, Tenn., said she hopes Davies will be a personable president who communicates with students.
"Our University is already awesome, I just hope he can continue that and make it even better," she said.
Kruk said she hopes Davies will be up front with students about issues affecting them and keep the student body in mind when approaching solutions.
Davies is the 13th president at Murray State, following Tim Miller.
Davies' presidency officially began July 14.
Since that time, he has made his rounds through the University, the city of Murray and surrounding communities to introduce himself.
He made a point to meet with the dean of every residential college, as well as residential college heads and residential college advisers.
He also met with city officials, University leaders and alumni, tour all departments and visited superintendents around the state to help recruit high school students.
While Davies has spent much of his time working with staff, faculty and administration, he said he's happy to start interacting more with students.
Amanda Winchester, senior from Murray, said she wants to see Davies engage with students and be present on campus.
"I hope to see him involved with students and what goes on in our day-to-day lives here on campus," she said. "I've already seen him on campus quite a few times and I like to see that in a president."
Winchester said she wants Davies to make decisions at the University while keeping students' best interest in mind.
Davies said he is holding off on making major decisions before University-wide, in-depth planning processes are made.
"The faculty and staff have been phenomenal," Davies said. "I'm looking forward to moving the institution forward in various ways and haven't run into any major disagreements yet. There are obstacles we need to overcome, such as the budget, but Tim Miller did a wonderful job balancing the budget."
He said the University leaders need to look at resources and see what details to pay attention to; where to invest, admission procedures and recruiting students are focus issues as well.
He said faculty and staff have been open with those discussions.
While Davies said faculty and staff have been open and communicative, he said he particularly identifies with the freshman class because they're also new on Murray State's campus.
"(The freshman class) and all students are very special to me," Davies said. "One of the joys of my job is getting to know students very well.
"I love being able to welcome students and meet with them and being a part of their college experience. I want to be able to give them the tools they need to succeed, be approachable and have a personal presence and hopefully make a difference."
Story by Rebecca Walter, News Editor