Students and community members threw on their cowboy boots and ventured to Lovett Auditorium Tuesday night for an evening with Chase Rice and his up-and-coming country sound.
Rice brought his How She Rolls Tour to Murray along with local opening act Brandon Lay.
Lay, originally from Jackson, Tenn., said being from a small town has made a big impact on how he has learned to interact with other small town crowds and get them excited for the show.
"When you start your musical journey you start small and local," he said. "And starting small and local, that is something you never try to lose focus of."
Rice also knew just what to do to get the crowd revved up and excited for a night of music. He started his second song by prefacing it with some crowd interaction. He instructed the audience to follow his lead in yelling "I like drinking," while the audience responded with "'cause it's fun."
Another way he got the crowd riled up was by doing cover songs. Rice covered everything from "Drunk on You" by Luke Bryan to "Get Low" by Lil Jon and Eastside Boyz to the theme song of the television show "The Fresh Prince of Bel-Air."
"My favorite part of the whole show was whenever he covered "Ignition" by R. Kelly," said Derek Rogers, junior from Cadiz, Ky. "I thought it was awesome because that's my favorite song."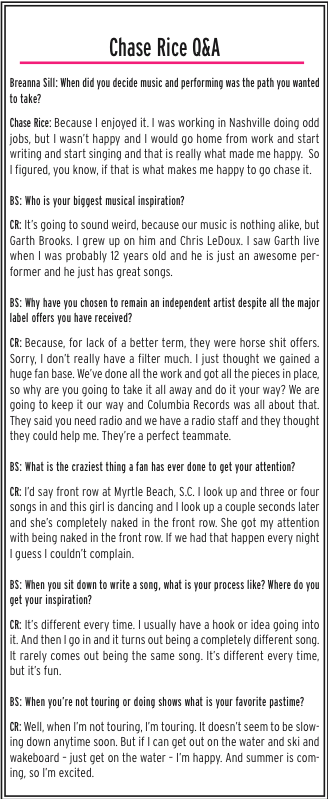 The person who stole the show was a little boy named Landon. Being one of the only children in the audience he quickly caught the attention of Rice, who then pulled him onstage and carried him around during a song early on in the show.
Landon was brought back on stage later in the show and stole the crowd's heart when he asked Rice if he would let him play his drums for everyone.
Rice closed the show by performing his newest single, "Ready Set Roll," and also by performing "Cruise," a song he co-wrote with childhood friends Brian Kelly and Tyler Hubbard of Florida Georgia Line, which went No. 1 on country charts.
Story by Breanna Sill, Assistant Features Editor