Murray State pulled ahead of the competition during the last round of the OVC Championship Wednesday to win the program's ninth conference title, just two strokes below Eastern Kentucky. Starting the day with a 6-shot deficit, senior Delaney Howson ensured the Racer victory with a birdie putt on the 18th hole, simultaneously claiming her spot as medalist.
But Howson is no stranger to the medalist position, with this being her seventh individual win as a Racer, tying her with Lee Anne Pace as the winningest golfer in program history. In addition, Howson carded the lowest round in the history of the event with a 4-under-par 68. Over the three rounds, she totaled 13 birdies, five more than her closest competitor.
She was also named OVC Player of the Year at the conclusion of the championship.
Although Howson maintained her lead throughout the championship, the team's score was not as definitive. After the first round, the Racers were in third place, 12 shots behind Eastern and nine shots behind Jacksonville State. After gaining momentum during the second round, the team was able to cut its deficit and stay neck and neck with Eastern throughout Wednesday's 18 holes. Howson was blissfully unaware of the pressure laying on her shoulders during the last few holes, thanks to the composure of Head Coach Velvet Milkman.
"I knew it was close, but I didn't know it was that close coming up on the 18 tee," Howson said. "We were tied and I had no idea; and I'm glad I?didn't. I?looked at Velvet, and she gave nothing away. She was a lot calmer than I would have expected."
On the 18th hole, Howson had already watched Eastern's last golfer three-putt, and knew that she had to do better. She putted for a birdie, which she described as the best feeling ever.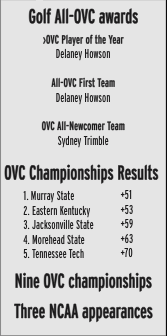 "I?feel on top of the world right now. It feels awesome. We've just come so close the last three years, finally to get it feels amazing. We've worked hard all year for this tournament," Howson said.
Milkman was not surprised by her team's performance, as she says the talent it possesses was more than enough to win the conference. Experience is the only thing her team lacks, she said.
"I knew we had the talent," Milkman said. "I didn't know if we had the experience. In golf, experience means a lot. It takes more pressure than they've faced all year. We work hard and we put them in the tournaments that we do to prepare them for this situation, but until you see them go through it, you don't know what they will do.
"The underclassmen stepped up. It was a team effort. Obviously Delaney played exceptionally well – we expected that – but she can't do it by herself. And everybody else contributed."
Included in the team effort was a strong showing by freshman Sydney Trimble who placed fifth with a score of 229 to join Howson on the OVC All-Tournament Team. Sophomore Abbi Stamper finished at 11th place, freshman Jacklyn Van Meter placed 29th with a score of 246 and sophomore Sophie Hillier finished in 35th place with a score of 250.
The team's win came from its desire to win, according to Howson.
"We were a little down after the first day, but we talked it out and had some good conversations with everybody," Howson said. "The last two days were just given so much effort. We wanted it so bad. We wanted it more than anybody else, and that's what got us through."
Conversations amongst the team didn't go unnoticed by Milkman, who praised her lone senior for her leadership throughout every round of the tournament.
"She was a true leader this week," Milkman said. "Sometimes when you get to what might be the last tournament of your career, your emotions can become involved, and that certainly wasn't the case for her. She was determined to win it.
"She stayed focused on helping the underclassmen, and sometimes that makes your game a little easier because you're not just focused on yourself."
In addition to nine OVC Championship titles, Milkman, who started the women's golf program 21 seasons ago, has nine OVC Coach of the Year Awards.
Six of her players have continued their golf careers on the professional level.
Now, she looks to lead them as they continue their season with the OVC's automatic bid into the NCAA Championship.
The field for the 2014 tournament will be announced Monday on the Golf Channel's Golf Central program, airing from 5-6 p.m. The NCAA Regionals will be held May 8-10, and the National Championship will be May 20-23.
But for now, the Racers are taking some time to enjoy their win.
"We'll take a few days to enjoy this win, and then get back to work this weekend," Milkman said. "Now it's time to reach the next goal, making it through the regional championship. That's what we're going to work towards these next few weeks."
Story by Mallory?Tucker, Sports Editor