The sweet sounds of memorable '90s favorites, love ballads and more Miley Cyrus than Murray State could handle filled the Quad Wednesday afternoon at the 56th annual All-Campus Sing. The event was hosted by Sigma Alpha Iota with the assistance of Phi Mu Alpha.
Compared to All-Campus Sing 2013, the weather pulled through. Attendees began laying out blankets and setting up lawn chairs early Wednesday, and some even camped out Tuesday night to obtain good seats for the the event. More than 1,500 students, parents and community members gathered in the Quad and nearly 2,000 people watched the online live stream.
The event opened with a pre-show performance by The Muses, the University's female a cappella group. Per Murray State tradition, before the actual event began, outgoing Student Government Association President Jeremiah Johnson announced the winners of the SGA elections.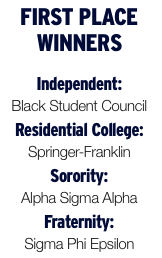 Following the announcement, the show kicked off and audience members began tweeting to vote for their favorite groups using special hashtags provided by the coordinators of All-Campus Sing.
More than 22 campus groups and organizations performed on the steps of Lovett Auditorium. These groups were arranged into four different categories: independent organizations, residential colleges, sororities and fraternities.
Each category held a first through fourth place. The Black Student Council took home first prize in the independent organizations category as well as Best Soloist. From the residential colleges, Springer-Franklin Residential College took home first place. Alpha Sigma Alpha placed first in the sorority division and also received the Spectator's Choice Award tallied via Twitter. Sigma Phi Epsilon took first place for its performance in the fraternity division.
Best choreography was awarded to Sigma Sigma Sigma and Best Costume was awarded to Alpha Gamma Delta. Alpha Gam also received the Spirit Award, which was based on the penny wars, T-shirt sales and the instrument drive held before the event. They were also the overall winners of All-Campus Sing.
However, the Director's Choice award recipient went to fraternity Pi Kappa Alpha, who gave a memorable performance when director Zac Willis proposed to Tori Harper during the number.
The crowd roared as the song "Marry Me" began to play through the speakers and Pike sang.
"I loved all the performances," said Jake Clark, freshman from Paducah, Ky. "But I felt Pike's performance was really creative and surprising with a proposal at the end of the number."
Though most were surprised by the proposal, other students were surprised by their first experience with the long-standing tradition.
From the variety of themes and wide range of musical choices, the show impressed Amber Upton, freshman from Paris, Tenn.
"I loved the show," Upton said. "The performances were great. There were great songs and great choreography. This is my first year at All-Campus Sing, and now I definitely want to be involved next year."
Story by Hunter Harrell, Features Editor