Renovations of Hester Residential College are approximately 80 percent complete and on schedule as contractors continue to make progress working from the top of the building down.
Kim Oatman, chief Facilities Management officer, said the amount of work completed on each floor varies with the lobby being closer to 30 percent complete, but that the college will be ready to be inhabited by July 8.
The rooms and building will have updated electric, plumbing, furniture and networking fixtures.
Hester will gain additional study lounges on three of the floors, updated bathrooms and a new modern kitchen opening to the back lobby among other improvements.
Oatman said he was happy with the work completed thus far and attributed the timeliness of the work to the consultants and contractors.
The renovation of Hester cost approximately $9.9 million and was made possible by Gov. Steve Beshear's signing of House Bill 7 last June.
The bill authorized bonding for projects at several Kentucky universities and granted Murray State $15.5 million for the renovation of Hester, a new sprinkler system for College Courts and other facility improvements.
Kenny Fister, college head of Hester, said he and the residents are excited to move back into Hester next semester.
He said while there may be some major changes aesthetically to the college to which residents will have to acclimate, including the moving of the front entrance, policies and the community atmosphere will stay the same. Hester can house approximatedly 319 students.
"We are looking forward to having space back," Fister said. "But the building was in need of a major renovation and many features both seen and unseen were showing their age. When the building was built students did not have microwaves, computers and large televisions.
"Now it is being turned into a building fit to be a modern home of Hester Residential College."
He said the transition from living in Hester to Old Richmond Residential College required some getting used to, but prior to moving he talked to the leadership from Elizabeth Residential College, which also recently had a complete renovation and knew some of what to expect from the change.
Fister said the biggest differences between the two residential colleges were the suite-style baths, the lobby area and louder rooms and halls.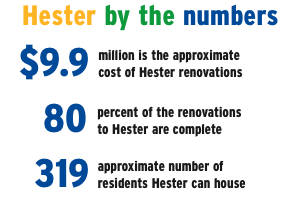 Rebecca Johns, junior from Crete, Ill., and Hester resident, said the biggest change she noticed between living in Old Richmond and Hester was a lack of community due to the smaller lobby and study lounges.
"Since people were trying to have events and do fun things in the study lounges, it kicked people out from studying and everyone kind of got on people's nerves with how loud they were," Johns said. "Everyone is on different schedules and it's so hard to have fun like we used to when we hardly have any space."
Johns said while she plans on living off campus next semester, if that doesn't work out she will return to Hester.
Following the completion of Hester's renovations, the next major housing project for the University is to construct a New Franklin Residential College. This construction is scheduled to be completed in 2015.
Story by Ben Manhanke, Assistant News Editor