Robert Davies has been named the new president of Murray State, becoming the 13th president in University history.
After the Board of Regents decided to remove interim from President Tim Miller's title, making him the 12th president at the University, the board unanimously voted to name Davies the next president.
Plans for the University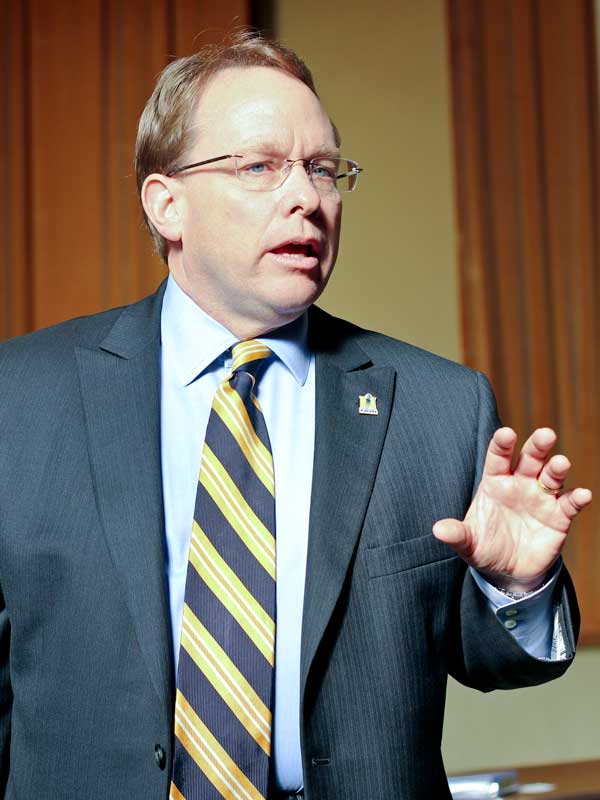 During an open forum Monday, Davies answered questions and concerns from students, faculty, staff and community members.
He touched on issues regarding budget cuts, enrollment, housing and dining, athletics and his role as president.
Davies said he wants to end his career at Murray State.
"I want this to be my capstone presidency," he said.
Davies said during his first six months as president he will not make any major decisions.
He said during that time, his job would be to listen, learn and ask questions.
He said he would also take that time to learn from Murray State's current administration.
After the six-month period ends, Davies said the next step would be figuring out what a university serving an entire region should entail.
During his time at Murray State, Davies said he has a goal to meet every student on campus.
"It would hurt my heart if someone walked across the stage at Murray State graduation and said 'Wow, you're the president?'" Davies said.
He also stressed the importance of diversity at the University.
"If we are a University, and we cannot let people be who they are, then what kind of University are we?" Davies said.
In regard to the budget, Davies said it is important to remember that planning and the budget go together.
"We can't plan our budget wishes on things that might not occur," he said.
Davies said he hopes to be as transparent with the budget at President Tim Miller has been.
He said he is looking forward to transitioning to a larger university. Eastern Oregon University, where Davies is currently president, has less than half the enrollment of Murray State, with 4,157 students.
Davies arrived at the University Sunday with his wife, Cindy.
Since then he has met with Miller, a group of 12 student representatives on campus, The MSU Foundation Board of Trustees and community representatives, faculty representatives and interviewed with the Board of Regents.
Davies ended the open forum Monday by sharing a few personal thoughts and hopes for his time at Murray State.
"You guys have something special here, something beyond what I expected," he said.
From eastern Oregon to western Kentucky
Davies' presidency of Eastern Oregon University in La Grande, Oreg., began in July 2009.
During his time at Eastern Oregon, Davies secured more than $50 million in state funding for building renovations, personaly pledged $120,000 for scholarships and faculty research and increased enrollment, retention and graduation rates to the highest levels in the university's history.
Before his time at Eastern Oregon, Davies was vice president for University Relations at Indiana University of Pennsylvania, and held other positions at the State University of New York at Buffalo, Boise State University and the University of Nevada, Reno.
Davies has also been selected to serve on several national and regional associations and commissions.
These organizations include the Committee on Policies and Advocacy for the American Association of State Colleges and Universities, chairman of the Council of Presidents for the Cascade Collegiate Conference and the National Association of Intercollegiate Athletics.
He has professional memberships in the Association of American State Colleges and Universities and the American Council on Education.
Davies earned a Bachelor of Science in management from the University of Nevada, Reno in 1989.
He received a Master of Business Administration in finance and marketing from the University of Oregon and a Ph.D. in higher education administration from State University of New York at Buffalo.
Story by Rebecca Walter, Staff writer