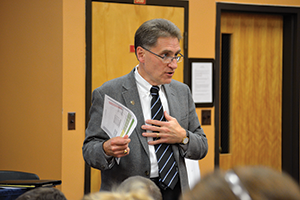 Former president Randy Dunn will take over the presidential position of the Southern Illinois University system, leaving Youngstown State University after seven months. The Board of Trustees at Southern Illinois announced the unanimous decision Monday afternoon. His four-year contract at the university system will earn Dunn $430,000 a year.
Dunn began at Youngstown State in Ohio in July of 2013.
According to Youngstown's The Vindicator, Dunn failed to attend a recruitment event at the university Monday.
University officials were surprised at the possibility of losing their new president.
Not only will Dunn be leaving Youngstown State, but the provost and the vice president for academic affairs have announced they are leaving as well.
The Vindicator also reported that Dunn told trustees Monday he will resign Aug. 16 unless a replacement is chosen before then.
Chris Koechner, senior from Marion, Ill., was recently accepted into the Southern Illinois University School of Dental Medicine.
"It's definitely odd that I'm attending two universities that have had the same president," Koechner said. "I believe Dunn is a great president and will do a good job (at Southern Illinois)."
According to Inside Higher Ed., R. William Funk & Associates was the search firm used by Southern Illinois.
William Funk, head of the firm, told Inside Higher Ed that he's never "plucked away such a new president."
Dunn told The Vindicator that he didn't "apply per se."
Staff Report
Related articles