Murray?State Sports Editor Ryan Richardson sat down with new Racer soccer Head Coach Jeremy Groves.
The two talked about his days growing up in Leeds, England, and how he made it to the friendliest small town in America.
Groves takes over for Beth Acreman who coached Murray?State for nine seasons. He is the third head coach in Racer history.
RR: What was it like playing in England?
JG: It's similar to basketball being a huge sport here. In England, it's soccer as the main thing. You see every kid playing it on the street. It's a way of life. It's massive. It's starting to grow like that over here, though, with the younger kids especially.
RR: So how did you end up over here if soccer isn't as popular?
JG: I was released from the club at Leeds United. I played for college and it was a similar structure. We actually won the British Colleges Cup and I was seen by the coach at Virginia Intermont and that's how I kind of got recruited.
RR: Is it difficult not having support like in England?
JG: The hardest thing is people actually coming out to the games. Over there, it's the be all and end all. It's the main things where you'll get big attendance every week.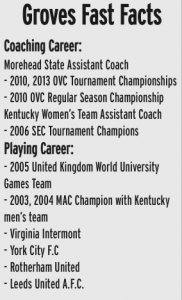 RR: Why did you transition from playing to coaching?
JG: I wanted to stay attached to the game. I had an option to try to keep playing, but I didn't necessarily want to do that. I stayed at Kentucky to finish my degree and that's when I fell into coaching. I helped out with summer camps then got asked to be on staff.
RR: What can you bring from your experience to help coach this team?
JG: You have to take each game as it comes. Our nonconference schedule is going to be set up where we have some testing games and some challenging things. If we can come out of that OK, then going into conference it should give us a springboard.
RR:?Why did you come to Murray?
JG: Being a head coach is what I've always wanted to do. I feel like this is a great opportunity for myself and for my family. I've always wanted to test myself.
RR: Are there any big games you're looking forward to next season?
JG: We're actually going to go to Louisville and open up their new soccer stadium. They're expecting about 5,000 people, so that will be really good experience for the girls.
RR: Will that be tough on the players?
JG: A little bit, yeah. That's one thing I've found in my time coaching women's soccer, is they get overawed by the whole experience. That's going to be a pretty tough environment to play, but hopefully we can grasp it and get a good result.
RR: Do you have any motto you coach by? Maybe "defense wins championships?"
JG: I was a defender when I played, so that's a good motto. I heard it when I was a player in England. I believe you have to work harder than the other team.
RR: Where does your love of soccer come from?
JG: I just always liked it. I was just this kid who watched it on TV and played. You see people on TV and you try to emulate what they do. It's just a fun thing to do.