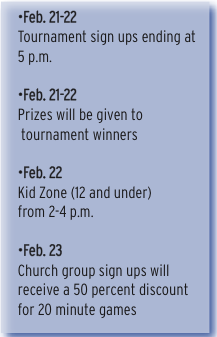 Students can sometimes have difficulties finding entertainment on the weekends in such a small town, where there are not many places to go.
The William "Bill" Cherry Agriculture Exposition Center will host the first Laser Tag Games Feb. 20-22 from 2-5 p.m.
The event will be open to all ages for the general public and Murray State students.
"We want more student event involvement like this in the future," said Becky Ballard, director of the Expo Center.
In order to find ways of increasing involvement from both the community and students, the Expo Center held a meeting.
"The Expo Center staff meets on a regular basis to discuss new ideas and brainstorm," Ballard said. "At one of our particular meetings, someone suggested paintball, which we thought was too messy and dangerous. When we thought of laser tag for the kids, we made it happen."
For a single game the cost is $5 per person. For an all-night pass, students are able to purchase a wristband which costs $30.
Teams consisting of a maximum of five people may join for $40.
Each game is timed, lasting 10 minutes each.
There are two open arenas, one of which will be reserved as a Kids Zone on Feb. 22 from 2-4 p.m.
Concessions will be open during all games and will include refreshments, candy and nachos.
Story by McKenzie Willett, Staff writer