The rifle team suffered its fourth loss of the year when it traveled to Lexington, Ky., to face Nebraska.
The No. 11 Racers were defeated 4,652-4,593 at the hands of the No. 6 Cornhuskers in their final regular season match before hosting the OVC Championships.
Seniors Mikey Burzynski and Bill Harvey and junior Kelsey Emme led the way for Murray State in smallbore.
Burzynski finished fourth overall, shooting a 574, while Harvey and Emme tied for fifth at 571.
Sophomore Tessa Howald finished ninth in the event with freshmen Jack Berhorst and Sam Harris finishing at 12th and 13th, respectively.
"Getting on the road is a little bit of a distraction," Head Coach Alan Lollar said. "We were a little shorthanded last weekend and that was a bit of a distraction. That was, I think, the biggest part of why we didn't shoot the way we have been shooting."
While the Racers had a solid day in smallbore, they could not find their way in air rifle.
Only Howald and Harvey finished inside the top 10 in air rifle.
Howald shot a 583, finishing eighth, and Harvey took ninth at 582.
Emme, Harris and Berhorst took 11th-13th, and Burzynski tied for 14th.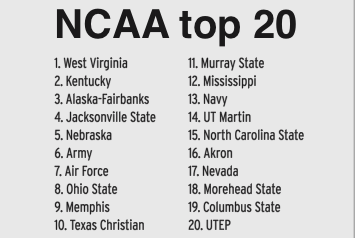 Now the Racers turn their sights to the next challenge as they host the OVC Championships at Pat Spurgin Rifle Range Feb. 8-9.
"We've been talking about it all year long," Lollar said. "We're looking forward to the chance to come back home and stay at home."
"I think everybody is excited about coming home. It's a lot of work, but we're excited to put on a good championship for the OVC and the other teams."
The team is 2-1 against conference opponents, including an upset of No. 4 Jacksonville State earlier this season.
Burzynski said even though the team is coming off a loss, it has not lost any confidence as it heads into another tough weekend.
"We're feeling confident that we're going to beat JSU, because JSU is our main competitor," he said. "We feel like Morehead is going to put up a good fight. So is UT Martin, but we're all feeling pretty confident and feeling ready."
The Racers are 6-0 at home on the year and will attempt to stay perfect as they head into this competition.
"(Being at home) has been our advantage," Lollar said. "It's sort of our home-field advantage. You have to try to take this as just another match and you're going to shoot it how you're going to shoot it; that's just the way it is. You're successful when you can do that."
The Racers are now ranked No. 11 nationally heading into the tournament.
No. 4 Jacksonville State, No. 14 UT Martin, No. 18 Morehead State and No. 19 Columbus State will make the trip this weekend.
Burzynski shrugged off the notion of there being any added pressure in hosting the OVC Championships.
Said Burzynski: "(There's) not (any extra) if we just handle our business."
Story by Nick Dolan, Assistant Sports Editor