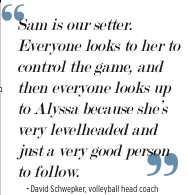 The Racers return to their slump, losing back-to-back against SIU Edwardsville and Eastern Illinois last weekend.
Head Coach David Schwepker said the Racers fought hard against SIUE Friday night, despite team captain Katlyn Hudson missing the game due to a concussion.
"We didn't know she was going to be out until Friday morning when we got on the bus and left," Schwepker said. "Basically, Friday night we were trying to figure out the lineup without Katlyn in there. We just didn't play well because the chemistry wasn't there."
Schwepker said now that Hudson is out, the team needs someone else to look up to for guidance on the floor.
He said he thinks many players look up to sophomores Alyssa Lelm and Sam Bedard.
"Sam is our setter," he said. "Everyone looks to her to control the game, and then everyone looks up to Alyssa because she's very levelheaded and just a very good person to follow."
Despite the loss against Eastern Illinois Saturday, Schwepker said he was proud of the way the Racers played.
"Saturday, they all gelled really well," Schwepker said. "That's one of those losses you can kind of handle because everyone played well and nobody gave up."
The Racers will face the same two teams this weekend, but on their home court.
Schwepker said the team will watch game film from the last two matches to prepare themselves for this weekend.
He said if the Racers play stronger against SIUE, they should have no trouble pulling out a win.
He also said he thinks the Racers can pull out a win over Eastern Illinois.
"With Eastern Illinois we played really well," Schwepker said. "If our girls get out there and play like that, being at home and being more comfortable, hopefully it will go our way this time."
With the end of the season nearing, Schwepker said the team has one thing on its mind – making it into the OVC tournament.
The Racers will face SIUE on the floor tonight at 7 p.m. They will then take on Eastern Illinois at 2 p.m. Saturday. Both games will be held in Racer Arena.
Story by Taylor Crum, Staff Writer