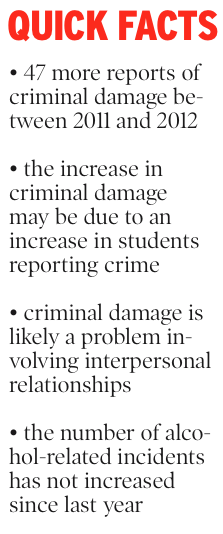 The Murray State Police released its annual Campus Security and Fire Safety Report for the 2012 calendar year last week.
The report noted, along with the amount of other criminal activities such as theft, stalking, sexual assault, liquor and drug offenses which took place over the past year, that 47 more reports of criminal damage had been reported between 2011 and 2012.
According to the 2011 report, only three cases of criminal damage were reported from Jan. 1 until Dec. 31. This year's report noted there being 50 cases of criminal damage.
Criminal damage is typically constituted underneath the broader banner of criminal mischief and entails the damaging of public or private property, anything from vandalism and keying cars to damaging buildings and road signs. Criminal mischief varies in degrees of severity depending upon the amount of damage done.
David DeVoss, chief of the Murray State Police, said that while he found this change in the number of reported incidents for this particular crime to be the most shocking revelation made from the security report, he believes it to be an aberration and not the indication of a new trend.
He said the rise in reports may not indicate a rise in the rate of the crime itself, but may actually be a result of a campus which is more alert to crime and willing to report any instances of crime it observes.
"If our students and our faculty and staff are more aware of any type of crime and they're reporting it to us that is good for us," he said. "If we're more aware of what is going on, we can respond to that, so when people are telling us what's going on I view that as more of a plus."
DeVoss said in terms of criminal mischief at Murray State, he has observed that it is usually a result of either interpersonal relationships such as couples breaking up, feuds between roommates or alcohol intoxication.
He said most of the reported incidents of criminal mischief come late at night when students are returning from drinking.
"We were asked a lot of questions about how Murray going wet would impact the campus," he said. "There has been more alcohol use, greater accessibility and availability of alcohol, but one cannot say with definitive surety that this trend is a result of that."
DeVoss said according to the 2012 Annual Campus Security Report, reports of alcohol violations on campus such as alcohol intoxication and driving under the influence have gone down or remained the same since Murray became wet, a fact he said he is proud the report shows.
The Annual Campus Security Report's compilation is required by all institutions of higher learning across the nation as mandated by the Clery Act put in place and monitored by the Department of Education.
The Annual Fire Safety Report which the Murray State Police includes in the annual report is required only of universities in the state of Kentucky under the Michael Minger Act.
DeVoss said these acts have been put in place so that any parent can look at how safe a campus is and what efforts are being put in place by a university to ensure the safety of their children, instead of just having access to what academic programs are offered and how good the football team may be.
"Serious crimes on campus are a rarity and for that we're grateful," DeVoss said. "It's our primary job to make sure that students and the University are safe, not that the jail house is full every Friday night."
Story by Ben Manhanke, Assistant News Editor