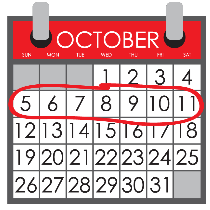 In an attempt to try and standardize Murray State's Fall Break schedule starting in 2014, Faculty Regent Renee Fister has begun to gauge the interest of several constituencies on campus.
Already, Fister has talked to Provost Jay Morgan, Staff Regent Phil Schooley, Student Government Association President Jeremiah Johnson and also addressed various members of the Faculty Senate at their Sept. 3 meeting.
Fister said one of her main motivations for moving Murray State's Fall Break to Oct. 6 and 7 would be to allow faculty, staff and students more time with children they may have in the surrounding school districts.
"In our 18 county service region we have 16 school districts who have their fall break October 7-11 this year," she said. "We could allow the families who work here and who have children who are out during that week to have time with their children instead of stressing over how to find care for them."
She said it is a common practice for faculty and staff with young children to take vacation days or sick days during their child's fall break to allow them to be home with the child.
In the past two years, Fister said, those 16 school systems have held fall break during the exact same week, so synchronizing the University's schedule with these schools would be quite easy. These school systems who have their break during this same week include both the Murray and Calloway County school systems.
Moving Fall Break back, she said, would not affect the midterm and may even improve students' ability to prepare for their second semester courses.
"If you have a midterm right after you come back (from Fall Break) or right before that break you could get advised, talk to somebody instead of just picking a course, get into a second semester course and move forward," she said.
Fister has been working primarily with the Provost's Office in determining the feasibility of this idea because the Provost Office is in the process of setting Murray State's academic calender for the next five years.
She said those she has talked to around campus have been supportive of the idea, but that it does not necessarily mean anything will happen.
"Any support we can have from faculty, staff and students would help," she said. "I want to try and have some conversations to see if this would be an effort we could at least try, maybe not set in stone, but try next year, and if it doesn't work, go back and look at it again."
Next, Fister plans on speaking with Staff Congress at its Sept. 18 meeting to attempt to finalize the consensus of opinions she has collected already.
Story by Ben Manhanke, Assistant News Editor