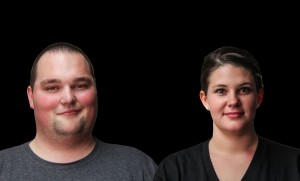 Forty-five votes separated incumbent Student Government Association President Jeremiah Johnson from his competitor, Meggie Goeke, junior from St. Louis.
The close-knit race ended with Johnson earning 787 votes, while Goeke earned 742, votes in one of the most participated student elections. A total of 1,609 students voted earlier this week for their student senate representatives. While the turnout was up from previous years, approximately 16.6 percent of the student body voted.
Jeanie Morgan, SGA adviser and coordinator of student activities, said she saw an increase in student interest in this year's SGA elections. Morgan also said the more student input, the better.
"Compared to other universities, our numbers are good," Morgan said. "About 600 more students voted in this last election than last year's."
Johnson will represent the student body and serve as the Student Regent on the Board of Regents for a third year. Winning the election for the third time has put Johnson on an exclusive list of presidents who have held a three-year term. There has only been one other to do so at Murray State.
Coming into his third term, Johnson will be dealing with the Board of Regents in violation of the Open Meetings Act, the search for a new University president and the hiring of a provost.
Johnson said he thinks students still support him despite the recent controversy.
"I'm excited to bring new changes to SGA and the student body," Johnson said. "I plan to build better relations with administrators on campus as well as with Faculty Senate and Staff Congress and to advocate for the students."
He said he feels that he still has work to do with SGA.
"I have learned that we need to have a strong voice in Frankfort to push for funding for higher education in Kentucky and someone to really voice the concerns of Murray State students at the state level," Johnson said.
Campaigning as Johnson's unofficial running mate was Julia Hilkey, senior from Louisville, Ky. She ousted sophomore AJ Glaser by more than 300 votes for vice president of SGA and president of the Campus Activities Board.
Hilkey said she is excited to bring a fresh new life to the CAB and increase its public relations.
"I want to get more students involved with CAB and allow more students to have a diverse opinion about what events are on campus," Hilkey said.
She said she has seen so many large changes happen on Murray's campus that she wants to be a voice for students who may not feel they are represented.
Rounding out the executive board is Michael Dobbs, sophomore from Winchester, Ky., as secretary and Ava Jackie, sophomore from Louisville, Ky., as treasurer. The newly-elected Residential College Association president and the Judicial Board president will join the four as the new leaders of SGA.
Other positions included in the elections were at-large senators: Tyler Oldham, Josh Johnson, Samantha Anderson, Joy Straney, Keving Coughlin, Kaitlyn Brooks, Alix Bloodworth and Nathan Payne.
The new officers and senators from each academic college will take over new positions next week at the second to last SGA meeting of the year.
Story by Meghann Anderson, News Editor.